In the picture: One of the Haulotte boom lifts United rented to SBP-Retracom Joint Venture, to assist with the safe and efficient installation of insulated panels.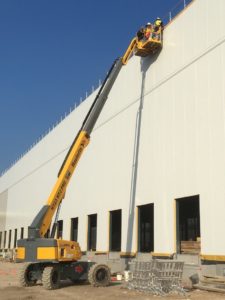 In a Victorian cold storage project, an SBP Australia and Retracom joint venture has utilised United Forklift and Access Solutions' safe and versatile access equipment in the construction of Australia's highest insulated panel building, standing 38 metres tall.
The New Cold 2 project in Truganina Victoria consists of a chilled warehouse with an adjacent despatch and packaging building, totalling 23,500m2. The project is expected to be completed by the end of 2017, with nearly all external panels installed already.
United telehandlers, straight booms and electric scissor lifts were used to install PIR insulated panels at various heights, including the apex of the roof, 38 metres high.
"United have also been quick to respond to any issues, including service, maintenance and site challenges. This is a challenging project and we've had to work together to overcome different issues relating to the machinery, the site and the weather," said Mr Bill Thompson, Project Manager, SBP-Retracom Joint Venture.
"One issue that arose earlier this year is that a new set of site requirements was introduced requiring a crush bar to be configured onto all booms to protect the operator. United were straight onto it, and promptly replaced all booms that were not fitted with the crush bar with new machines that had one already fitted."
United Forklift and Access Solutions' Rental Manager, Mr Jason Thompson, said United forged a productive partnership with the SPB-Retracom Joint Venture through a series of key initiatives tailored to their needs, including:
Tailored lines of communication by way of a Dedicated Account Manager to handle all aspects of the account and to facilitate speed and ease of communication as per the client's request. This asset to communication and management helped develop a project management skillset fundamental to the success of the ongoing project.
United's ability to supply all types of access equipment from its broad technology range, demonstrating to the joint venture its strength, depth and versatility in its service, including the prompt availability and transport of equipment from interstate.
Rapid back-up service and support made possible by the range of technology available and because of United's understanding of the project, which assisted the partnership in being able to anticipate where and when support was needed.
Flexibility in tailoring and modifying equipment to the joint venture's specific needs; then subsequently scheduling it for delivery to the project at the correct time, while dealing with the flux and changing needs of this major project as it progressed.
Bill Thompson said United's flexibility and partnership extended to tailored financial terms, important to a large project – "For a long-term project like this, United are giving us enhanced flexibility on their rental terms, which is a big help also," he said.
Safety technology employed on the project
ACTIV'Shield Entrapment Prevention System is an anti-crush system designed to protect boom lift operators on site. The safety system is available on all new Haulotte articulating and telescopic boom lifts. A retrofit kit is also available for older boom lifts from 2008 onwards.
The ACTIV'Shield system safely warns the operator and stops the boom lift to avoid potential entrapment or crushing situations. Any boom lift involved in installation, inspection and maintenance tasks as well as general access to elevated areas and machinery, should have this feature installed, says Jason Thompson.
In the picture: The New Cold 2 project under construction. United's access equipment was used to safely and reliably install insulated panels as high as 38m.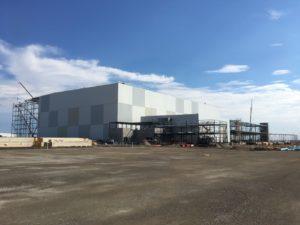 Equipment used on the project included: A powerful and robust Haulotte 4t Telehandler, designed for maximum operator comfort with reliable performance. It includes Flow Sharing technology that enables a simultaneous and proportional control of 4 movements.