Iconic Australian battery manufacturer Century Batteries is set to unveil its new state of the art rotary plate making line which will increase production capacity by 200,000 batteries a year.

Despite operating restrictions at the height of Queensland's COVID-19 lockdown, Century Batteries will realise Factory 2020: a three-year project commissioned in 2017 committed to both continuous improvement of their factory and to manufacturing in Australia.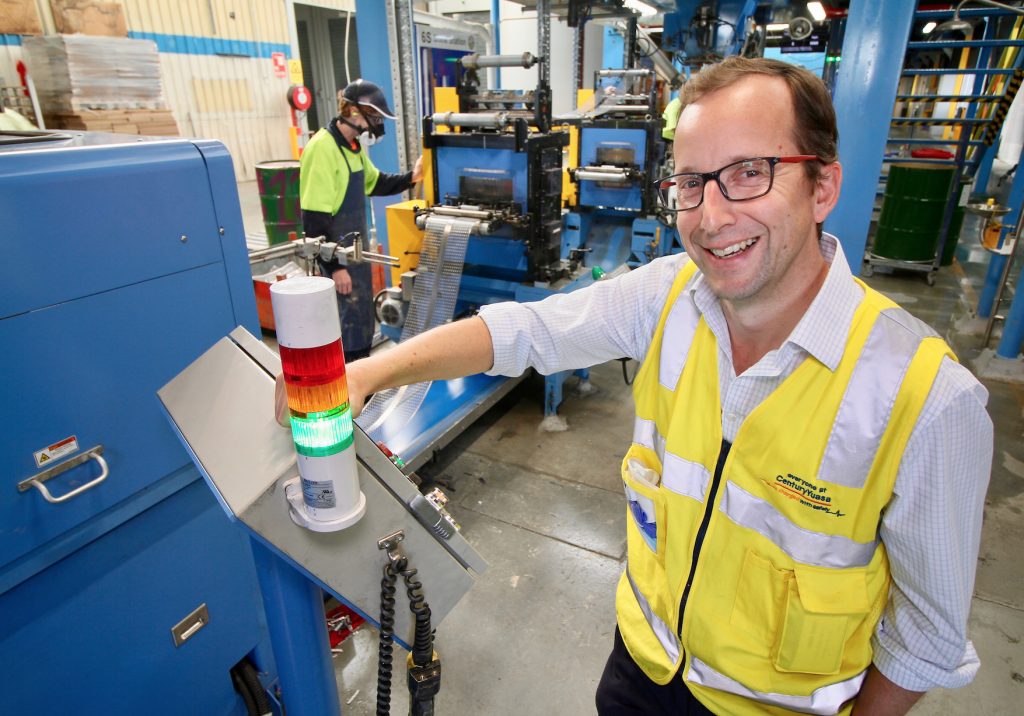 The $7 million capital investment project was focused on improving factory efficiencies, equipment utilisation and quality consistency.

General Manager Automotive Sales (Australia & New Zealand), Stu Stanners said the investment would boost annual production capacity by almost 20% to 1.3 million batteries.

"Manufacturing in Australia has fallen over the last two decades from 13 per cent of gross domestic product to just 6 per cent," he said. "We are committed to continuous new product development and investing significantly in local manufacturing to ensure we set new standards in product performance.

"Our core strength and competitive advantage lie in delivering exceptional products supported with an industry-leading service network. Almost every component needed for our manufacturing process comes from other local manufacturers – whether that is lead from South Australia, recycled components from New South Wales and plastics and signage from Queensland.
"We have Australia's back and we hope when you need a new battery next, you'll insist on a Century battery and support an Australian made product."

The Carole Park based business has made a significant commitment to both the business' future and jobs for their workers. Century employs around 600 employees across Australia and New Zealand, putting over $100 million back into the Australian economy every year.

The call to buy Australian made also comes from Century Yuasa General Manager of Operations Matthieu Anquetil. "As a manufacturer we certainly need state of the art machinery, but that can only go so far. We are only as good as our people and our customers," he said. "We want people to know we are about keeping jobs here in Australia, so we need every Australian to really consider Australian-made.

"Our factory upgrades equal any manufacturing plant around the world: allowing us to increase our manufacturing efficiency so we can compete against imported products. Manufacturing in Australia is getting tougher, so we have to become more innovative, designing batteries that better suit the Australian climate."

The factory upgrades included a complete revision of the factory layout for better efficiencies transitioning to lean manufacturing and improved safety.
Lead plates are the critical components of lead batteries. The new rotary expander line replaces three existing plate making lines (reciprocated expander lines) and runs at a speed of 45 metres per minute compared with 11 metres per minute for each of the older machines.

The upgrades also include four new curing ovens, designed by Century's engineering team, with automated buggy systems controlling each step of the curing process. Century has also invested with significant upgrades and expansion of their research and development facility.

Not only did the project 'future-proof' the business and protect current jobs, but additional permanent positions were also created.

Century Batteries is on a course to be the first manufacturer to achieve a "Century" in business. Both Stanners and Anquetil say this is achievable with the support of a country that sticks by its mates.

"We have over 8,000 customers in Australia and 3,000 in New Zealand," Anquetil said. "And while a small percentage of products in the Century range are imported from Century Yuasa affiliated and approved suppliers, the majority of the more than two million units Century Yuasa sells every year are manufactured in the Queensland plant.

"The Covid-19 crisis has shone a light on many Australian industries that are critical to our economy and for keeping our supply chain moving with increased support of local manufacturing, a standout."