Investment will enable Australian engineers in the defence, mining, rail, telecoms, power grids and supermarket industries to benefit from short lead times and flexible order quantities.
Amokabel has doubled production capacity at its cable factory in Sydney. The upgrade has boosted the manufacturer's ability to deliver specialist cable for the defence, mining, rail, telecoms and frozen food industries. In turn Australian engineers will benefit from short lead times and greater flexibility in terms of minimum order size.
Specialised cables are essential to meeting specific performance criteria in many industries. Engineers often need special arrangements when it comes to the conducting and communication cores that carry power and signals inside the cable, as well as insulation and protection layers, and other elements such as identification features.
These non-standard details mean that cables must be specially manufactured. As a specialist producer in Australia, Amokabel can deliver orders of as little as 500 metres in just 1- 2 weeks. This enables customers to control cashflow improve flexibility by enabling them to keep small stocks of cable. That compares with large cable producers in Asia , which typically have a minimum order quantity (MOQ) of 5,000 metres or more and several months lead time.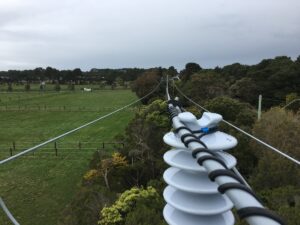 "Time is money in industry – so when an engineer can source the product they need within weeks and in small batches, they can deliver their projects faster and more cost-effectively," says Steve Rutland, Managing Director for Amokabel in Australia.
"By investing in additional capacity at our plant in Sydney, we're establishing a strong manufacturing base and showing engineers that we're committed to the local Australian market ."
Amokabel acquired its production facility in Sydney from Euro-Tech Cable in December 2022. Building the business as a supplier of niche specialist cables will enable it to grow its special cable business in Australia and become a major supplier in the market.
Looking further ahead, the manufacturer foresees growing demand for covered conductor from electrical grid operators and once this picks up, plans to produce this in Australia.
Amokabel is a Scandinavian privately owned cable group that manufactures a wide spectrum of wires, cables and overhead conductors.
With headquarters in Sweden and a yearly revenue of more than SEK 1,5 billion, they are setting new standards when it comes to innovation, customer services and short lead times,  focussing on high quality and innovative design of new products with minimal environmental impact.