The 3M Abrasives System Division are offering a webinar series to industry professionals providing unique insights into abrasive technology and best practices.
This three-part 'Shop Talk' series commences Tuesday 21st July 2020 and focuses on how businesses can improve efficiencies by adopting innovativepractices and technologies while enhancing operational safety.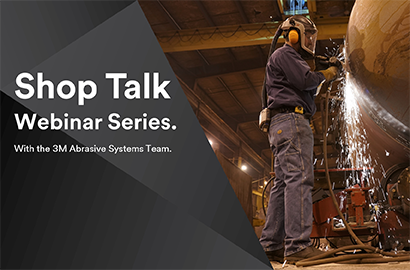 3M abrasive expert Nathan Bamford will guide attendees through a range of topics in the series, with the first session focusing on satin finishes on stainless steel, removing welds and deburring without risk of gouging or rounding corners.

The webinar series has been developed to provide professionals with the opportunity to upskill and make smart choices for their businesses in the future.
'At 3M we are aware of how big an impact COVID-19 has had on the industry locally, so we're keen to share our knowledge on products and techniques to give local specialists and businesses an edge,' said 3M Abrasives System Division Marketing Manager, Jonathan Small.
'We hope that by engaging in our short, on-line learning sessions our customers can find solutions to current issues and learn improved methods to operate which may help with efficiencies and on-site safety in the future.'

To register for the 3M Abrasives Shop Talk Webinar series, please visit go.3m.com/ShopTalk_Webinar_AU
3M Abrasives Technology Webinar Series
Session 1: Tuesday July 21st, 2020 12:00pm – 12:30pm EST
Agenda
⦁ How to achieve a satin finish on stainless steel
⦁ How to remove a weld and take it to a number 4 finish
⦁ How to deburr without gouging or rounding of the corner plate
Session 2: Tuesday August 25th, 2020 12:00pm – 12:30pm EST
Agenda
⦁ How to save time on your mild steel processing projects
⦁ How to maximise the life of your belt
⦁ Safer alternatives to wire brushes
Session 3: Tuesday September 22nd, 2020 12:00pm – 12:30pm EST
Agenda
⦁ What are the best products for aluminium?
⦁ How to achieve an effective finish on a right-angled fillet weld
⦁ The role of robotics in abrasives

Please contact Jonathan Small on jpsmall@mmm.com or 0429 212 629 for more information.