Today's China – Australia Free Trade Agreement announced by Minister Robb includes gains for some Australian grains but not all.
Australia's premier grain industry has missed out on concessions under the China Australia Free Trade Agreement. After 10 years of negotiations, Australian wheat remains subject to an out-of-quota tariff of 65 per cent, and within-quota tariff of 1 per cent. Exports of Canola will also continue to be subject to a tariff of 9 per cent, and maize exports have also been excluded from concessions under the deal.
"Wheat and canola continue, along with rice, sugar and maize, to be non-negotiable for China. However, in the case of wheat, the Chinese world wheat quota is currently 9.6 million tonnes, so well above their imports and not binding. The 1 per cent in-quota tariff, as long as it's applied to all exporters of wheat to China, is not a significant distortion to trade and it's that equivalence that we will be focusing on in the short-term." Says Cheryl Kalisch Gordon, Manager Trade & Market Access, GrainGrowers.
The Australian grains industry will however benefit from immediate removal of the 3 per cent tariff on barley and 2 per cent tariff on sorghum. Australian exports of these grains to China are growing on the back of an expanding Chinese alcoholic beverage sector and in 2013 exports were valued at $351 million and $91 million respectively. The value of tariff removal for these two commodities represents around $12 million per annum in 2013 trade terms with the benefit being shared between Chinese consumers and the Australian grains industry. With trade in these commodities expected to continue to grow over time, these annual benefits will also increase.
Other positives for grains from the agreement include:
• Immediate removal of the 2 per cent tariff on Australian oats;
• Removal of tariffs on pulses either immediately or within 4 years;
• Immediate removal of the tariffs on a range of speciality grains such as millet, quinoa and triticale; and
• Removal of tariffs on some processed grain products such as rolled and flaked oats and barley immediately and on wheat gluten and starches over 4 years.
"We welcome today's deal which expands the opportunities for exports of Australian grains to China, and extend our thanks to Minister Robb and departmental staff in the achievement. In our minds it does not represent a free trade deal, and we will be working to ensure that market access for wheat and canola will be enhanced" says Alicia Garden, Grain Growers CEO.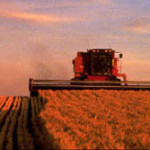 GrainGrowers have lobbied for the agreement to include all grains, especially wheat. While it is disappointing for wheat to have missed out again, GrainGrowers is please the agreement includes some of their key considerations:
• A review clause. GrainGrowers had hoped to achieve specific review the wheat tariff however is pleased that the agreement includes a general agreement review, including on market access, three years after the agreement comes into force.
• A commitment that technical access must not constitute unnecessary obstacles to trade and that the agreement includes a mechanism whereby either Party can raise non-tariff measures for review by the FTA Trade in Goods Committee, which must report progress to the FTA Joint Committee.
• The retention of key investment items, to provide the basis for future review.