The Future Computed: AI and Manufacturing is an in-depth look at the challenges and opportunities of AI and how it's transforming the manufacturing sector.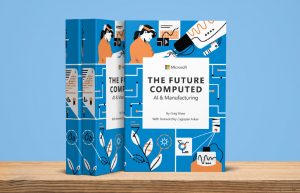 Interviews with customers, policymakers, labor representatives and Microsoft experts shed light on how AI is driving efficiencies, enabling products and services, and allowing for safer workspaces.
The book also offers a timely look at how society can respond to some of the challenges this new technology creates, and the need to develop new laws and regulations to address workforce disruption and develop AI in an ethical and responsible manner.
A free download of the book is available at The Future Computed microsite, where you can also find other interesting content from the book (e.g. customer videos, case studies, and executive summary).