Australia's leading supplier of air springs and associated technologies for heavy vehicle suspensions and industrial actuation and isolation, Air Springs Supply, has relocated to a new and customer-responsive facility at Unit 18, 38-46 South Street in Rydalmere, NSW, to better serve its customers.
Air Springs Supply, which is the exclusive national distributor for Firestone Industrial products and Pronal Elastomer products, says the new facility is more centrally located for their customers, as well as providing efficient room for inventory and spare parts. The facility – which will also include the HQ of All-Air Suspension – is configured for speedy and efficient responses to OEM and spare parts, industrial and transport orders and to meet the needs of local manufacturing customers.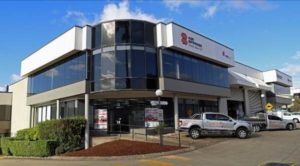 "We wanted our new headquarters to have better access for all our customers and additional space for our products to improve availability and lead times. At Rydalmere we found a place that ticked all the boxes and looked bright and professional at the same time," said Air Springs Sales and Marketing Manager, Mr James Maslin.
"We spent more than a generation at our previous office, so it may take some getting used to, but the team is excited about the benefits this new place will offer to our valued customers," said Mr Maslin.
Air Springs' products range from the tiny Airomatic polyactuator that stands just 11mm (.45in) high deflated for ultra-compact installation in light load applications through to heavy duty Marsh Mellow springs, which are fabric-reinforced solid rubber isolators used for quiet isolation of machinery vibration and for general shock absorption throughout industry.
Versatile range: Air Springs products range from the tiny Polyactuator (left)
to the heavy-duty Marsh Mellow rubber spring (right). Their core range of air springs (shown below) are used in heavy transport as well as a huge range of industrial applications.
About Air Springs Supply
The company supplies air springs and associated pneumatic technology for industrial actuation and isolation and for air suspension for heavy truck, bus, rail and hard-working light-to-medium vehicle applications.
Certified to ISO 9001: 2008 Quality Management Systems, Air Springs Supply represents world class products including:
• Firestone air bags, from the world's top selling supplier of air springs for heavy vehicles
• Airstroke ® Airmount® actuators and isolators from Firestone for industrial applications
• Marsh Mellow® rubber mounts for industrial applications
• Pickers and grippers for manufacturing, packaging and food and beverage applications
• Pronal Elastomer and environmental protection products, including pipeline systems
• Contitech air springs
ISO Certification
Air Springs Supply Pty Ltd has enhanced its commitment to national and global standards of quality assurance by gaining ISO 9001: 2008 Quality Management Systems – Requirements certification.
The company places a high priority on continuously reinforcing its customers' confidence in doing business with an organisation that can consistently meet or exceed their needs on time.
ISO 9001 certification is invaluable to customers in demonstrating that the organisation involved can consistently provide products or services that meet the requirements of customers and of any applicable regulations relating to them. ISO 9001 benefits to customers include assurance of global standards of consistency, quality and supply of products for which Air springs is exclusive national distributor, including Firestone air springs – the world's No 1 brand for heavy vehicle suspensions.