The Australian businesses leading the way in sustainable packaging design and innovation were recognised at the annual Australian Packaging Covenant Organisation Awards in Melbourne.
The Hon Trevor Evans, Assistant Minister for Waste Reduction and Environmental Management, joined more than 180 guests to celebrate the achievements of the 18 award-winning organisations, representing a broad range of sectors, including manufacturing, retail, transport, technology, hospitality and pharmaceuticals.
The finalists and winners (full list below), were selected based on their performance in sustainable packaging design, recycling initiatives and product stewardship programs to develop sustainable supply chains.
Supply chain specialists CHEP took home the coveted Sustainable Packaging Excellence award, in recognition of their dedication to collaboration. In addition to delivering a global reusable packaging model, CHEP works with hundreds of businesses to build and support sustainable supply chains.
Other award recipients included BioPak (Outstanding Achievement in Leadership), which in the last year has undertaken a number of impressive sustainability initiatives including the development of compostable packaging for single-use food service items. Also recognised was Panasonic (Outstanding Achievement in Outcomes), which has worked on a range of reductions and material efficiency initiatives including a 57% reduction in overall packaging for its 4K BD Player.
This year's event also featured two new categories – High Performing New Member, which went to Marechal Australia, which has seen 100% of solid waste being recovered. Also newly introduced in 2019 is the APCO Sustainability Champion Award, a category recognising individual achievement.
Congratulations to Diarmaid O'Mordha, Quality and Sustainability Manager for Endeavour Drinks, who was awarded this prize in recognition of his commitment to improving packaging sustainability across the wine industry supply chain. As the lead organiser of the Wine Industry Sustainable Packaging Alliance, Diarmaid has led several projects that are driving industry uptake of the 2025 National Packaging Targets and worked in partnership with APCO to develop the Sustainable Packaging Guidelines for the beverage industry.
Minister Evans, who presented the Sustainable Packaging Excellence category and delivered the evening's keynote address, commented: "Congratulations to all of tonight's APCO Awards finalists and winners. The achievements on show tonight demonstrate the strength of Australian industry's leadership on the sustainable packaging issue. It was inspiring to hear more about the practical initiatives that Australian businesses are implementing across the country right now to improve their packaging recyclability, to build strong, sustainable supply chains and, critically, to deliver the 2025 National Packaging Targets. I look forward to working closely with APCO and all of its Members in 2020 to continue to drive such meaningful and important change."
Brooke Donnelly, APCO CEO commented: "All of tonight's winners and finalists have demonstrated industry leadership and excellence in sustainable packaging. While these initiatives represent different approaches to this challenge – research, design, innovation or collaboration – what they collectively demonstrate is that Australian industry is driving forward with the positive business case for sustainable packaging – and that now is the time for more Australian businesses to adopt an approach that's both good for the environment, good for business and good for Australia.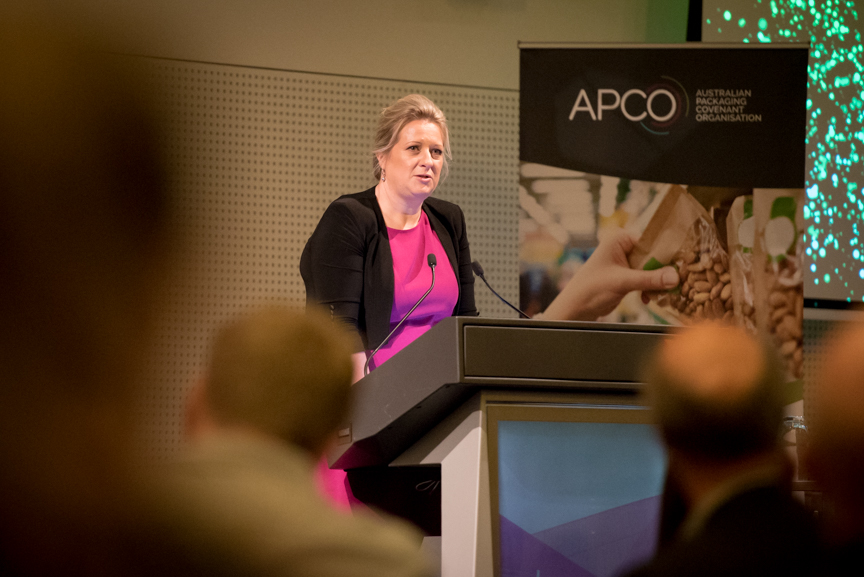 "With the 2025 target to make all packaging 100% reusable, recyclable or compostable now in focus, industry collaboration and innovation have never been more important. Tonight's award ceremony was an opportunity to celebrate the achievements of organisations that are leading the way in making this target a reality. We look forward to continuing to work with them in close partnership, in order to share the innovation, learning and insights required to build a circular economy here in Australia."
Richard Fine, Biopak Founder (winner of the Outstanding Achievement in Industry Leadership category) commented: "These awards validate and celebrate the companies who have demonstrated their commitment to meet the goals of the Australian Packaging Covenant. We are thrilled to be a winner in the 2019 APCO awards, earning a place amongst a distinguished group by having their achievements acknowledged and celebrated. This recognition means so much to our organisation."
Ciara McKenna, Interim Managing Director of Amgen Australia (winner of the Pharmaceuticals category and the Outstanding Achievement in Sustainable Packaging Operations award) commented: "Amgen Australia is very proud to have been recognised again this year by APCO as a finalist in the Pharmaceuticals category. Amgen's mission is to serve patients, and in doing so we are also committed to supporting and preserving the environment, and to continually make improvements to ensure we are operating as sustainably as possible".
Fiona Baxter, Group Manager Responsible Sourcing, Coles (winner of the Large Retailer Sector award) commented: "Coles is proud to be recognised as a finalist in the APCO Awards. We have released ambitious sustainable packaging targets for our Coles Own Brand, fresh produce and meat packaging to have 100% of our packaging recyclable at home or via store drop-off by 2020, while also reducing packaging where possible and increasing the use of recycled content. We are working hard towards these targets in partnership with our suppliers. To have this ambition and work recognised is much appreciated."
As part of the 2019 Awards, APCO facilitated a series of workshops throughout the afternoon covering the progress on the path to delivering the 2025 targets and a look at what's next for the Australasian Recycling Label. During the day APCO also unveiled the updated Sustainable Packaging Guidelines, which are available to download on the APCO website.
APCO works with government and industry to reduce the harmful impact of packaging on Australian communities by moving towards a circular economy. It is the organisation charged by government to make all packaging recyclable, reusable or compostable by 2025. For more information visit www.packagingcovenant.org.au
The winning companies of the 2019 awards were:
Sustainable Packaging Excellence- CHEP Australia
Outstanding Achievement in Industry Leadership- BioPak
Outstanding Achievement in Packaging Design- Panasonic Australia
Outstanding Achievement in Sustainable Packaging Operations- Amgen Australia
APCO Sustainability Champion- Diarmaid O'Mordha
High Performing New Member- Marechal Australia
Chemicals & Agriculture Sector- LyondellBasell Australia
Clothing, Footwear & Fashion Sector- Hugo Boss Australia
Electronics Sector- Dell Australia
Food & Beverage Sector- Red Rooster Foods
Homewares Sector- LEGO Australia
Large Retailer Sector- Coles Supermarkets Australia
Logistics Sector- CHEP Australia
Machinery & Hardware Sector- RYCO Group
Packaging Manufacturer Sector- Detmold Packaging
Personal Care Sector- ABC Tissue Products
Pharmaceuticals Sector- Amgen Australia
Telecommunications Sector- SingTel Optus
About APCO
The Australian Packaging Covenant Organisation (APCO) is the agency charged by government to make all packaging reusable, recyclable or compostable by 2025. To achieve this goal, APCO is working closely with government and industry to deliver a range of sustainable design, recycling, waste to landfill reduction and circular economy projects. Recognised as one of Australia's leading product stewardship organisations with a strong national and global collaborative network, APCO is committed to reducing the environmental impact of packaging on Australian communities by moving towards a circular economy.
About the APCO Awards
The APCO Awards is an annual event facilitated by the Australian Packaging Covenant Organisation designed to celebrate the Australian organisations leading the charge in packaging sustainability. The 2019 event includes 13 Sector Awards and six Outstanding Achievement Awards and focusses on innovation, collaboration and an ongoing commitment to driving packaging sustainability.