Austech 2019 – to be held from 14-17 May at Melbourne Convention & Exhibition Centre (MCEC) – has already been confirmed as the biggest Austech yet.
Co-located with National Manufacturing Week (NMW), Austech 2019 will be an unmissable event for manufacturing professionals, covering the entire spectrum of manufacturing technology, as well as showcasing some of Australia's best advanced manufacturing companies.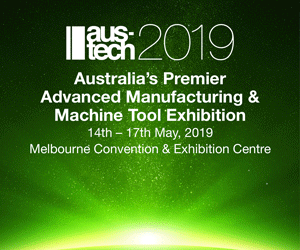 To get a flavour of what some of the exhibitors will have on display, you can browse a number of exhibitor previews online at the Austech website.
Check out just a sample of what will be on offer at Austech 2019, at: www.amtil.com.au/austech/exhibitor-previews
If you would like to attend Austech 2019, register online and start planning your visit at: www.amtil.com.au/austech/visit/