By Peter Hern, Country Manager, Oceania, Universal Robots
Since 2016, the Australian manufacturing industry has experienced ongoing public scrutiny for the closure and offshoring of manufacturing, especially within the automotive sector, due to the high costs of labour.
However, there is now opportunity for Australia to revive this industry. This requires a period of substantial change with the implementation of new, autonomous technologies. With these technologies, companies can be more efficient in countries where labour is expensive.
Disruptive technologies and advanced automation, such as collaborative robots, or cobots, can help regenerate the dwindled manufacturing industry in Australia.  This would allow Australia to compete on a global scale and contribute to global supply chains. A recent report by Bain and Company, Labour 2030: The Collision of Demographics, Automation and Inequality¸ has forecast that automation will create an economic boom over the next decade, offsetting a slowing in labour growth, something Australia needs to ensure it is a part of.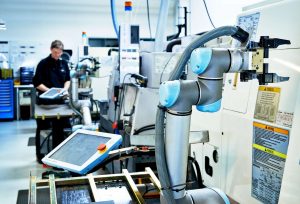 Competing on a global scale
Deloitte's Global Manufacturing Competitiveness Index revealed that as the digital and physical worlds of manufacturing converge, advanced technologies are becoming ever more important at company level and in global competitiveness. Technology-intensive sectors are dominating the global manufacturing landscape in advanced economies and allow a strong path to achieve or sustain competiveness. However, even while being an advanced economy, Australia is ranking at 21st on this index.
Germany is at the forefront of advanced automation, with industry 4.0 being a whole-of-country strategy to strengthen the economy through manufacturing. At this current time, Australian manufacturers are falling behind their global counterparts in the adoption of industry 4.0, and as a nation, must embrace the digital transformation of manufacturing to compete as a player in global supply chains.
Bringing back jobs
Between November 2016 and November 2017 the manufacturing industry experienced a decrease in employment by 4.5% due to the significant closures experienced across Australia.
Automation is predicted to reverse this decrease in employment and bring back the industries which have left due to high costs of labour. If companies proceed by adopting automation and moving back to Australian shores, jobs will be created in workplaces nationally.
While there is ongoing concern that automation will result in job loss in existing workplaces, the implementation of autonomous technologies means rather than forcing unemployment, employees can undertake more innovative jobs. They are given the opportunity to upskill and move to more advanced tasks, which will facilitate changes in job descriptions.
By freeing employees of mundane and heavy-duty jobs, automation will work to create more efficient workplaces for employees, allowing manufacturers to be innovative and grow, while also saving on costs.
Cobots drive down costs and increase production
Whether you run a mining site or an automotive factory, cobots' ergonomic design also makes them lightweight and compact and enables them to operate even within small and confined spaces.
Compared to traditional robots, cobots have enhanced in-built safety features, making it perfectly safe for people to work in close proximity. These safety features eliminate the need for fencing and bulky barriers, subject to risk assessments. Implementing cobots also increases workplace safely, freeing employees from mundane and heavy-duty jobs and mitigating OHS hazards.
Cobots drive efficiency for manufacturers by reducing human error and working faster and more consistently 24 hours a day, meaning payback time can be as little as 12 months.
The benefits of automation
 One company experiencing ongoing benefits from the implementation of automation is BHP. Following the introduction of autonomous drills across its Western Australia iron ore sites and autonomous hauling trucks at Jimblebar Iron Ore mine site, BHP is becoming a key player in the revival of Australia's manufacturing industry. The company has seen a complete cost reduction of 20% and a significant increase in employee safety, with a reduction of incidents by 80% as employees transition into roles at a remote operating centre in Perth.
Automation, innovation and technology are not only helping reduce costs and increase employee safety but are also paving the way for a more competitive and innovative manufacturing market. By adopting automation within manufacturing, Australian companies are able to increase speed of production and revive the industry. Australia can again become an attractive market for manufacturers, bringing back jobs and strengthening the economy to compete on a global scale.