West Gosford access solutions and products manufacturer Chamberlain makes an open-and-shut case for garage door automation. Now, with no foul play involved, it plans to revolutionise the US poultry industry.
Chamberlain designs and engineers residential garage door openers, commercial door operators, and gate entry systems. For Chamberlain, "smart starts in the garage". Its myQ technology connects its products and empowers users with smartphone access to regulate or monitor their entry points.
Graeme Sheekey, Chamberlain's director of operations and new geographies, says the myQ app gives the operator control of their garage door whenever and wherever they are. It offers real-time alerts, and the ability to set daily schedules and offer guest access.
"You can provide entry for a contractor, house cleaner, or family member any time," Mr Sheekey says. "With myQ, people know when their garage door opens and closes, which allows them to keep track of daily comings and goings. The scheduling feature allows the operator to pre-set days and times for the garage door to close or the lights to turn on or off. It's an easy way to keep a home secure, especially when owners are away on a trip."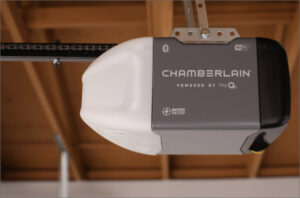 Hunter Manufacturing Awards (HMA) named Chamberlain's Alex Nivison its Apprentice of the Year – Manufacturing for 2022, winner of the Excellence in export and global supply chain award in 2021, winner of the Excellence in Sustainable Operations in 2020, and took out both the People & Skills Development award and Manufacturer of the Year in 2019.. HMA represents all businesses actively engaged in the manufacturing sector, including their allies, in the Upper Hunter, Lower Hunter, Central Coast, Lake Macquarie, Newcastle, Port Stephens, and Mid-North Coast regions.
The awards inspire, encourage, and recognise vibrant and enduring manufacturing in these regions. In recognising the growth of manufacturing in the Hunter and celebrating innovations and commitment, HMA 2023 places a spotlight squarely on global reach. The organisation is keen to push the message of international opportunities and its tagline for 2023 is "made in the Hunter, for the world".
Certainly, the Hunter's industrial history and resultant infrastructure provide the region's manufacturers with a compelling advantage as they make their forays into international markets. HMA encourages the growing and diverse base of established and emerging manufacturers of the region to use this advantage, look beyond Australia, and take their products and services to the international market.
Chamberlain's established world-class products have international reach, and the company seeks
expansion. And now its winching solution for the poultry industry is ruffling feathers in a good way and opening global doors.
Mr Sheekey says Chamberlain is currently the commercial door operator market leader in Australia and New Zealand, and the company plans are to expand into the US, the Middle East, India, and South Africa. Saudi Arabia in particular offers a growth opportunity for the company's residential and commercial garage door operators, gate operators, and now the poultry winch.
"Our product range includes commercial operators that comply with fire standards around the world," he says. "In addition to Australia, we sell our auto descent fire door operator to the US and have plans to expand our range and reach more customers. In the event of a fire, Chamberlain's door operators can control safe closure and contain the outbreak in a facility.
"We have developed a winching solution for the poultry industry. It is the market leader in Australia, and we have recently partnered with the largest poultry equipment supplier in the US.
"This is an exciting opportunity for us as we transform the US poultry industry from a manual winching industry into our automatic model."
HMA's mission is to promote best practices and it has recognised manufacturing in the Hunter, Central Coast, and Mid-North Coast for the past 18 years. It collaborates with key regional organisations to acknowledge excellence in innovation, product design, technology, emerging talent, building workforce capability, sustainable operations, and collaboration.
In highlighting the achievements of the best, HMA aims to inspire aspiration. It encourages all manufacturers in the Upper Hunter, Lower Hunter, Central Coast, Lake Macquarie, Newcastle, Port Stephens, and Mid-North Coast regions to enter the 2023 awards. There are 14 categories available.