TEPCO Ventures, Inc., Zenrin Co., Ltd. and Rakuten, Inc.  have begun examining the utilisation of "drone highways," or the airspace above infrastructure such as power transmission lines, for drone logistics. The three companies also announced that they have safely carried out the world's first demonstration test utilising a drone highway.
TEPCO Ventures, a wholly owned subsidiary of Tokyo Electric Power Company Holdings, Inc., and map publisher Zenrin formed an alliance on March 29, 2017 to confirm the use of drone highways for safe drone-based deliveries. The concept, which is attracting increasing interest, is a focus of the "2018 Roadmap for the Industrial Revolution of the Sky," which was approved by the Public-Private Conference on Infrastructure Creation for Drones in Japan in June 2018.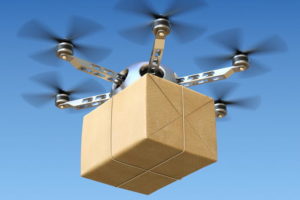 To develop a drone highway, TEPCO and Zenrin have been studying how to combine data on TEPCO's infrastructure, such as transmission lines and towers, substations and utility poles, with Zenrin's three-dimensional maps of the sky, which are currently under development.
Going forward, several test courses will be set up in eastern Japan's Kanto Region during 2018 to demonstrate the practical use of drone highways.
Internet services company Rakuten, which has been operating a drone-based delivery service called "Rakuten Drone," has joined the initiative. The first demonstration test, conducted in Chichibu, Saitama Prefecture, successfully achieved the world's first drone-based delivery using a power line route for the flight path.