The intricate merging of two processes spells significant savings and prospects for the packaging industry at-large.
Proud Australian machine builders HMPS Group (HMPS) began in 1980 and have evolved into specialists in the design and manufacture of automated processing and packaging solutions. Over the years, the company has solved complex packaging challenges and their most recent success story was no exception.
In an Australian first, HMPS designed and developed a sleever and cartoner in one footprint for Real Dairy.
Real Dairy is a 100% Australian owned and operated company, with sites across Queensland, New South Wales, and Victoria. The company produces their own speciality cheese products and supplies these to retailers across the country.
How it works
Adam Read, Sales Manager at HMPS explains that this first-of-a-kind machine offers a small footprint, enhanced efficiencies, and long-term cost savings. "This system can handle pre-glued sleeves in 2, 3 and 4 cell trays at up to 180 tray/minute for the 2 cell trays. With minimal change over it can also operate as an end load cartoner erecting, loading and hotmelt sealing primary cartons."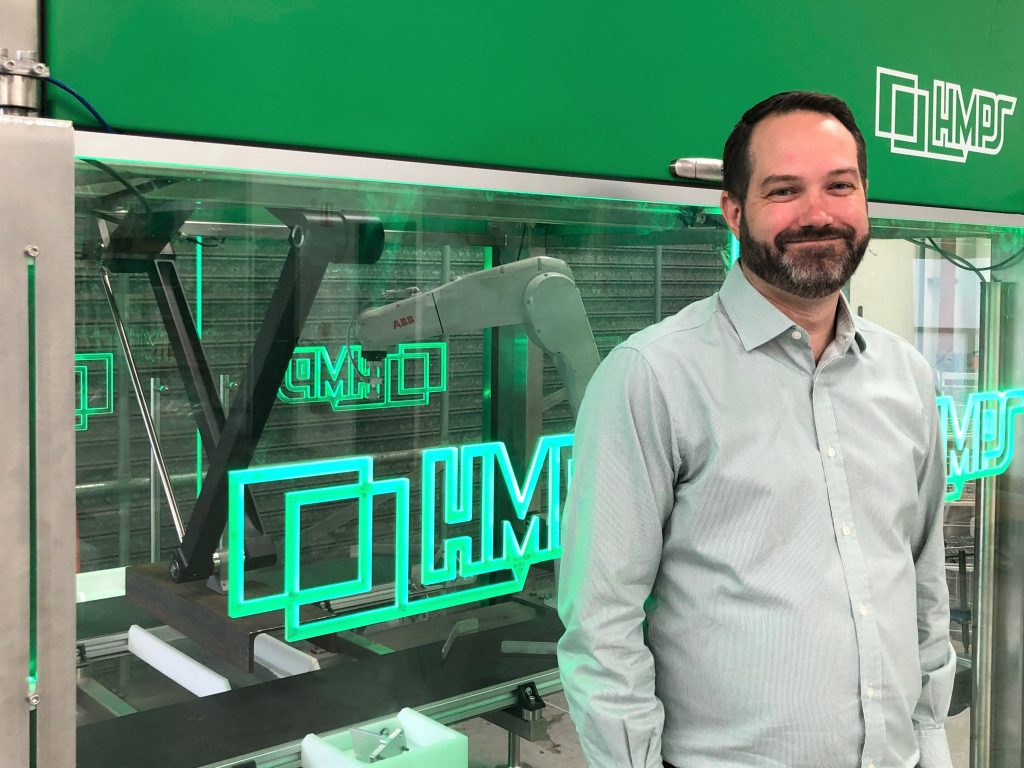 HMPS supplied two complete units for this project, allowing Real Dairy to handle up to 360 trays/minute. "Combining two machines into one is extremely complex but rewarding – particularly for the end-user".
"Generally, these tasks would be handled by two different style machines, and in this case, we had to figure out how to fit four machines into two machines."
Upon entry into the machine, the product (cheese and cracker packs) is transported through the machine along the main index conveyor where a sleeve is then applied to the product. "The finished product is then fed through the inkjet printer where a defined code is applied. It is then transferred to an outfeed conveyor" adds Adam.
The machine includes an added capability as Adam explains: "It's also required to end load a preformed carton to layer pack the product. After merging, the product is routed to a separate area of the machine where it is collated into its final layer form for presentation to the carton."
The carton is erected onto the main index conveyor, and traverses along the machine to a point where the product is end loaded. The product then moves to the next station where glue is applied, and the flaps are closed.
The completed final product is moved along and past the inkjet printer where the defined coding is applied. The product is then conveyed to the customers conveyor.
Answering to the call for real-time monitoring and support, HMPS also provided HMPSConnect to Real Dairy. "This software enables the customer to monitor the throughput, productivity and effectiveness in real-time."
Spiro Michas, CEO of Real Dairy adds that the new HMPS machinery is a major improvement in how things are done. "At Real Dairy we don't want to do things "as it has always been done", we want to be at the forefront of new technology so it's critical that we partner with other leaders in industry – like HMPS."
Local success!
We have seen a significant redeployment of labour thanks to the throughput and efficiencies of the this new development. The quality systems in place also result in less wastage and a safer operating environment" says Spiro.
He comments that as in most facilities, space is often a consideration. "In this case HMPS had to design a machine with a small footprint to work within our existing floor layout. They came up with a solution that was not only fit for purpose but also flexible enough to adapt to future packaging demands."
Spiro highlights another innovative feature – the LED doors on the machine. "These offer clear communication on the floor and highlight where the machine needs attention."
To conclude, Spiro says that the greatest highlight of this project was "supporting local". "We had international companies review the and quote as part of the tender process, but HMPS still won the job based on innovation and their track record. I am happy that we could keep this project on our shores as I really believe that we should be supporting local as much as possible."
Visit HMPS at Foodtech Queensland to find out how the company can assist with your bespoke automation designs – stand C15 – from 7-9 July 2022 at Gold Coast Convention Centre