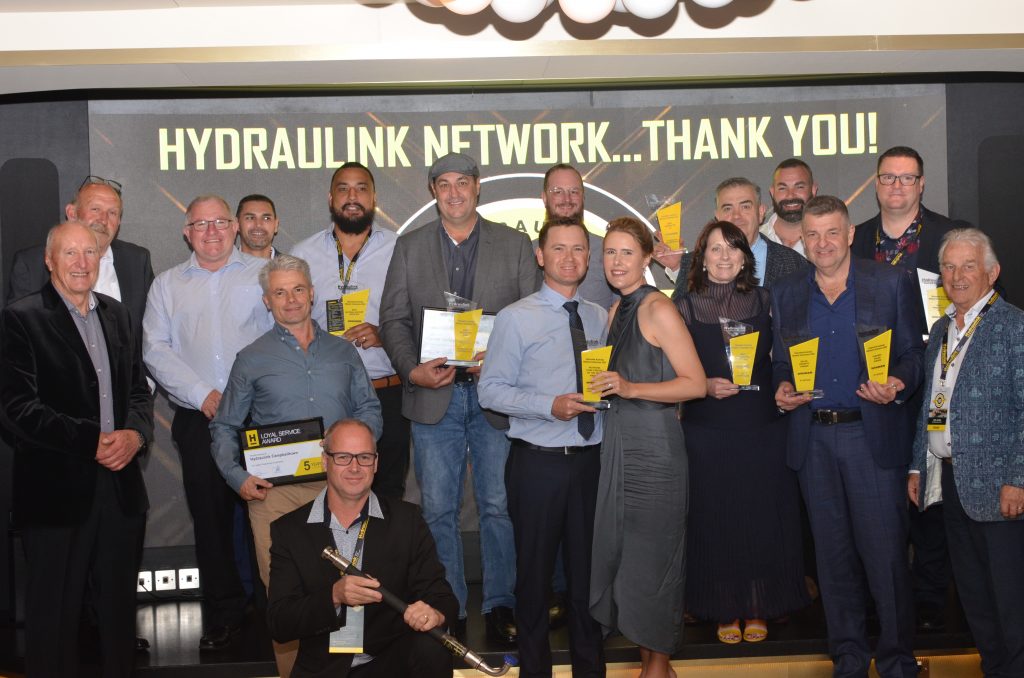 The steadily expanding hydraulic hose, fittings, and service company, Hydraulink Australia has celebrated its high achieving franchises in its 2022 Network Partner Awards.
Hydraulink operates through more than 400 service points across Australia, New Zealand and Oceania, and its success is driven by hard-working franchises and network partners that embody the company's "can do" ethos and attitude to service.
"The Network Partner Awards are to show our appreciation for the people behind the scenes, on the road at a dawn breakdown, getting under dirty machines, working in intense rain, or blistering sun," says Hydraulink Australia National Franchise Manager, Wayne Abbott.
Hydraulink's customers value maximum uptime for demanding industries such as earthmoving, construction, quarrying, civil engineering, road, agriculture, forestry, food and beverage, ports, logistics and a range of others.
"Hydraulink franchises are seeing our customers day-to-day and helping them solve problems. They need to be well versed in the customer's specific machinery, so they can figure out the problem and get it operational again," says Abbott.
Long service franchises
Hydraulink has an outstanding record of franchise loyalty, with most franchise owners spending several years with the business, and many staying for more than a decade. At the awards night, several franchises were acknowledged for reaching new loyalty milestones, including:
5 Years – Hydraulink Campbelltown NSW, Jeff McCoskery
10 Years – Hydraulink Blacktown NSW, Ben Walker
15 Years – Hydraulink Hunter Valley NSW, Shane Goodwin
15 Years – Hydraulink Wollongong NSW Complete Hose, Andrew Turner
25 Years – Hydraulink Albany, WA, Al Curnow Hydraulics, Al Curnow
Network Partner of the Year
The most coveted award on the night was the Network Partner of the Year award.
"This 'best of the best' award takes into account Hydraulink brand commitment, total sales of Hydraulink products, and year-on-year sales growth," explains Abbott.
"In 2022, we were delighted to award the Network Partner of the Year award to Tim and Stacey Hartshorn from Hydraulink Toowoomba QLD.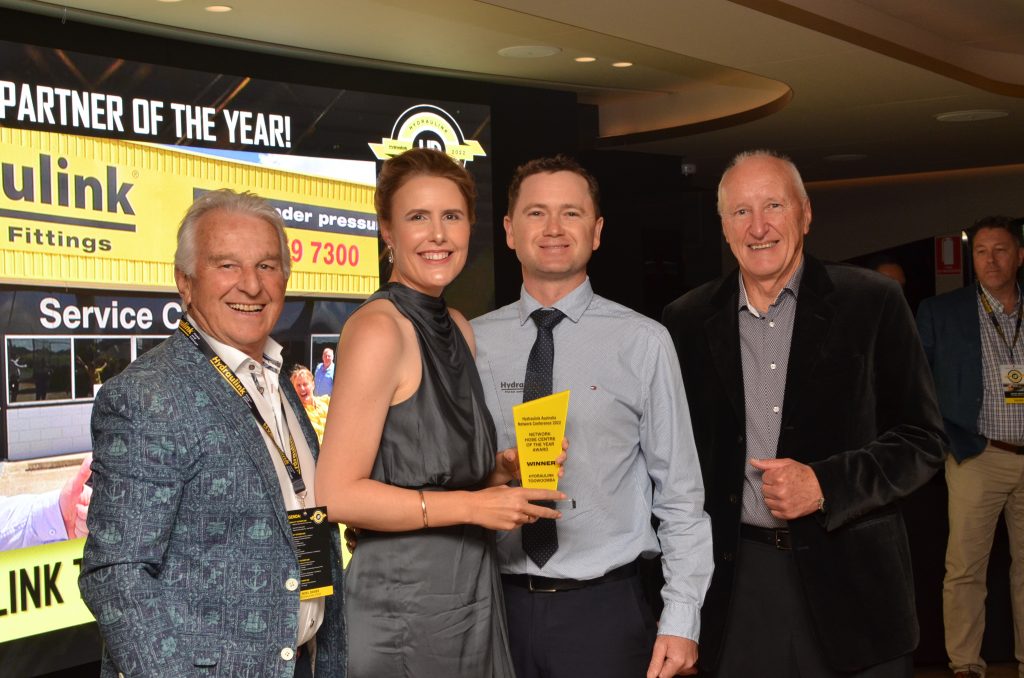 Stacey and Tim Hartshorn (centre) from Hydraulink Toowoomba with their award for Network Partner of the year, presented by Hydraulink directors Noel Davies (far left), and Lee Short, (far right)
"Tim and Stacey have truly embodied Hydraulink's focus on delivering outstanding customer service and value. This award is well deserved, and I, along with the entire Hydraulink organisation, congratulate them both again," said Abbott.
Other awards on the night included:
Best presented network partner in each state or region

Queensland – Hydraulink Yatala

New South Wales – Hydraulink Hunter Valley

Victoria/Tasmania – GV Hydraulink Shepparton

South Australia – Hydraulink Bordertown

Western Australia – Hydraulink Bunbury

Best new Network Parter (within the award year) – Hydraulink Rutherford
Best National Account Advocate – Hydraulink Brisbane North
Highest Sales Award – Hydraulink PR Intecs Indonesia
Highest Sales growth (year-on-year) – Hydraulink PR Intecs Indonesia
Franchise of the year – Ian Peddie, Hydraulink Brisbane North
Franchise expansion
As the demand for automation and machinery increases, so does the number of breakdowns. As a result, Hydraulink is looking to further expand its network with new franchises to meet growing demand for hydraulic hoses, fittings, and service.
"Hydraulink is particularly looking for loyal, dedicated, hard workers. Being mechanically minded is certainly advantageous – and diesel, plant or automotive mechanics regularly make outstanding franchisees. However, as long as the individual is motivated, driven, and embodies the Hydraulink "can do" attitude, there's always an opportunity to work with them to set up a franchise that best suits their needs and lifestyle," says Abbott.
"We aim to give the individual interested in a Hydraulink franchise more autonomy, more control over their future, more freedom than a regular job, and the ability to spend time enjoying the things that matter most in their life"