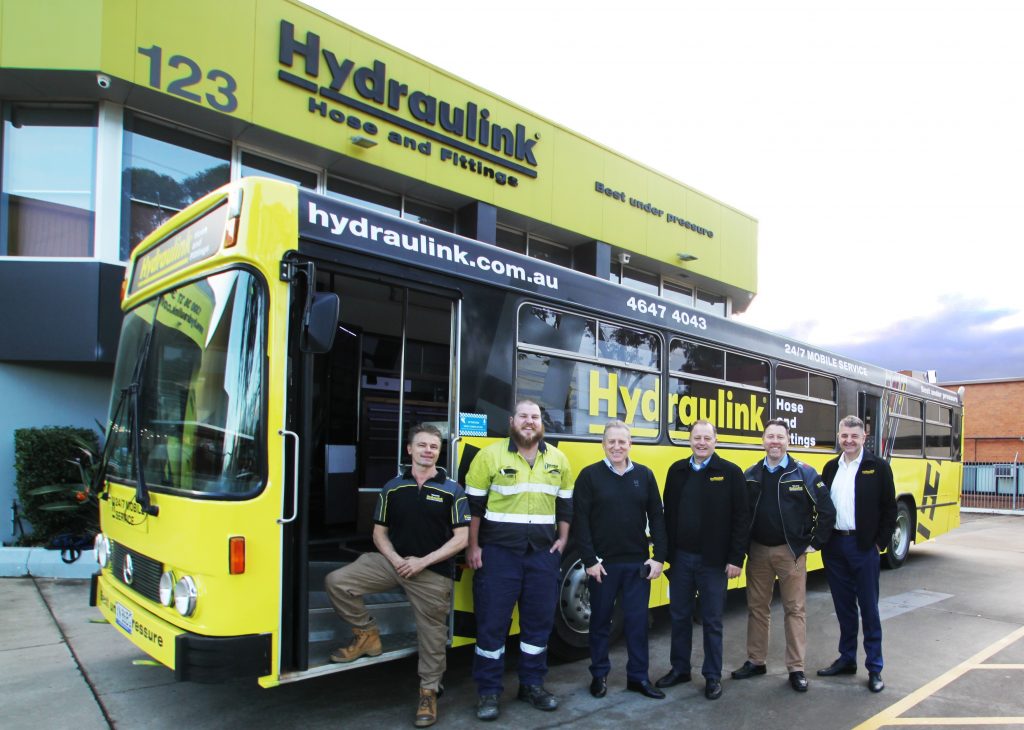 Hydraulink team members on the big yellow bus to business and jobs generation in Western Sydney. From left as they prepare to take their unmistakable message to local markets, are Hydraulink Campbelltown Franchise Owner Jeff McCoskery, Service Technician Hayden Wilton, Managing Director Denis Matulin, NSW State Manager Mark Andrews, National Franchise Manager Wayne Abbott, and General Manager Michael Popovic
Australasian hydraulics service leader Hydraulink goes spectacularly on the road to foster business and jobs around new Sydney Airport
One of Australasia's leading hydraulic hose supply and service organisations, Hydraulink, is launching a major expansion programme to provide business and employment opportunities around the rapid growth area surrounding the new second airport being built in Western Sydney.
The company – which has more than 400 service points throughout Australia, New Zealand and the Pacific Islands – is targeting the establishment of multiple new franchises and the simultaneous creation of new skilled job opportunities in the South West Sydney area around Badgerys creek, where youth unemployment, in particular, exceeds 12.4%.
"The new airport is expected to generate as many as 45,000 new jobs over coming years, with major investment initially in the engineering, civil and construction sectors, followed by ongoing growth worth billions of dollars in aviation, transport, logistics and infrastructure. These are all major areas of focus of the Hydraulink hydraulic hose and fitting business, where we can create quality businesses and skilled long-term jobs" said Hydraulink Australia Managing Director Mr Denis Matulin, at a function in Smithfield to launch the expansion programme.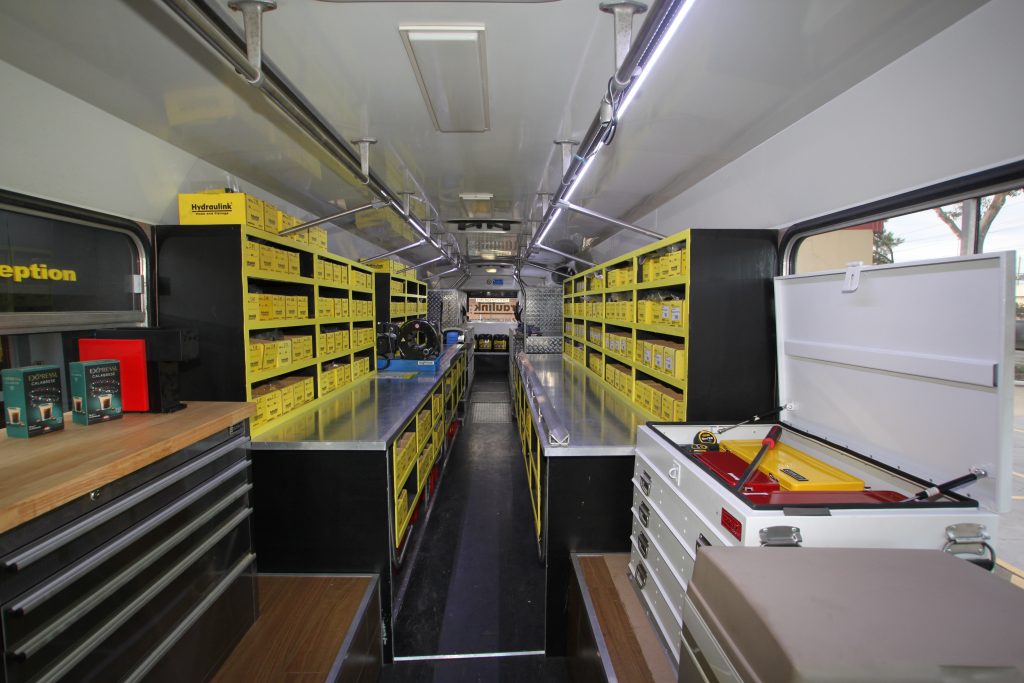 Service by the busload – the interior of the mobile service centre
The event got under way in spectacular fashion with an inspection of the latest addition to Hydraulink's South-Western Sydney service fleet – a vivid yellow 12.5 metre Hydraulink service bus fitted out by Hydraulink Campbelltown franchise owner Jeff McCoskery. The bus is believed to be one of the biggest mobile service centres in the hydraulics industry in Australia or New Zealand.
The ex-State Transport Mercedes – the same type of big bus dozens of Sydney people catch to work – was converted by Mr McCoskery for his new franchise. It was employed at the launch event (in July) as a centrepiece of the expansion programme to demonstrate the company's can-do ethos and engineering skills.
Jeff and his brother Steve worked nearly every Saturday for months transforming the bus into a fully equipped mobile service centre, mobile billboard and mobile customer reception centre combined, complete with tool benches, stock and even mobile barbecue for hospitality, doing the job totally themselves with skills and training fostered by Hydraulink.
"The bus is a showpiece really for the skills, training and initiative we foster in franchise operators and the people they employ, which is what the region needs. We want to develop the skills of the many people in South-Western Sydney, where the new Badgerys Creek airport will be an employment and opportunity magnet for decades to come," said Mr Matulin.
The new airport, scheduled to be operating by 2026, will have an estimated impact on the Western Sydney economy over the period 2020-2050 of between $9.2 billion and $15.6 billion, and on the whole of Sydney economy of between $15.7 billion and $25.6 billion (in net present value terms), according to a report by Deloitte Access Economics.
"There will be a strong need for skilled hydraulic service providers at every phase of construction and growth. We see a great opportunity to foster quality businesses and quality long-term employment in the skilled teams we will put in the field, all trained and working to the same standards of engineering excellence, safety and Standards compliance across multiple sites."
"Outstanding training and development of both franchise operators and employees is key to our success. We are deeply aware that successful businesses depend on successful people, so we have launched this major initiative to build our brand and people's career opportunities across every phase of this huge infrastructure project."