Hypertherm designs and manufactures the world's most advanced plasma cutting systems for use in a variety of industries such as shipbuilding, manufacturing, automotive repair. With a strong international presence, the company has been serving the Oceania market for more than 30 years, and has been expanding its local capabilities to meet domestic demand.
Hypertherm's mechanised plasma systems are used to manufacture mining equipment, such as conveyors, wear packages, and hoppers, while handheld systems are most commonly used to maintain and repair the heavy equipment used at the mines.Some of the uses of plasma on-site include pipe fabrication and repair, cutting off corroded bolts to repair bulldozer tracks and for gouging out welds prior to repairing trucks and loaders.
In partnership with SMENCO Pty Ltd, Hypertherm's solutions will be on display at the Queensland Mining & Engineering Exhibition 2014 from 22 – 24 July. During the three-day event, visitors to Stand L199 can learn more about the thermal cutting solutions provided by Hypertherm, and the benefits that these innovations offer.
Here are some highlights of the showcase: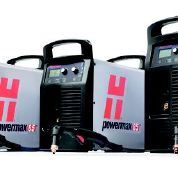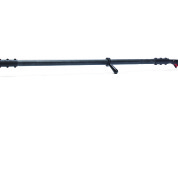 DuramaxTM Hyamp Torch
The first of its kind in the industry, the DuramaxTM Hyamp long handheld torch is a groundbreaking new addition to the DuramaxTM Hyamp torch series. The long torch opens up new possibilities for scrapping, skeleton cutting, and other applications, and comes in two lengths – 1.2 m and 0.6 m. The special application torch is made from high impact and heat-resistant materials, and is designed for industrial use in harsh environments. It is compatible with the Powermax125, as well as the Powermax105/85/65 systems.
Powermax air plasma systems
Hypertherm's Powermax line of products consists of six highly portable air plasma systems for handheld cutting, and five which can be used for automated cutting, and for gouging of any electrically conductive metal. Each Powermax system is carefully designed for high performance usage and can meet any and all cutting and gouging needs.
The latest addition to this range is Powermax125®, a 125-amp air plasma system that is the most powerful offering within the series, and one that features a 100% duty cycle for maximum work efficiency and productivity. The new system can be used for both handheld and mechanized cutting and gouging, and is capable of cutting 38mm-thick metals, and piercing metals up to 25mm-thick when mechanised.
Other benefits of the Powermax125 include cut speeds that are up to five times faster than oxyfuel on 12 mm mild steel, more torch options than competitive systems so owners can choose the right torch for their particular application, SpringStart™ technology for consistent starting and a more reliable torch, and Smart Sense™ technology that automatically adjusts the air pressure for the best cutting and gouging performance.
In addition to Powermax 125, Powermax105® and Powermax45® will also be on display at QME 2014, along with Hypertherm's wide range of torches and consumables that are compatible with these Powermax systems.
Hypertherm designs and manufactures advanced cutting products for use in a variety of industries such as shipbuilding, manufacturing, and automotive repair. Its product line includes handheld and mechanised plasma systems and consumables, as well as fiber laser and now waterjet products, in addition to CNC motion and height controls and CAM software. Hypertherm systems are trusted for performance and reliability that result in increased productivity and profitability for hundreds of thousands of businesses.
The New Hampshire based company's reputation for cutting innovation dates back more than 40 years, to 1968, with Hypertherm's invention of water injection plasma cutting. The associate owned company, consistently named one of the best places to work in America, has more than 1,300 associates along with operations and partner representation worldwide.