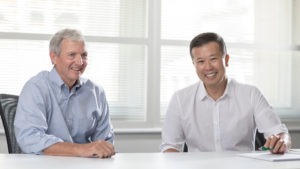 Louis Gries and Dr. Jack Truong.
James Hardie has announced that Dr Jack Truong, currently the Company's President – International since April 2017, will succeed long-standing CEO Louis Gries as the incoming CEO of James Hardie Industries. 
Dr Truong who continues to be based out of North America, will be formally appointed to the CEO role toward the end of the company's 2019 fiscal year, at which time Mr Gries will step down as CEO and from the Board.
The Board has determined that a structured transition is in the best interest of shareholders and an approximate six-month handover period has been established, during which time Mr Gries will remain in the CEO role and Dr Truong will become President and Chief Operating Officer with the responsibility of running the Group's global business.
He currently has responsibility for the operations of the Asia Pacific Fibre Cement business and the Europe Building Products business.
Jack Truong offers the ideal combination of commercial expertise, operational excellence, and leadership in order to continue to grow the business and maintain the industry-leading performance, across multiple geographies, established by Louis Gries over a long period.
 Louis Gries joined James Hardie in 1991, becoming CEO in February 2005.  During this time James Hardie delivered strong top-line growth and differentiated returns while increasing the market capitalisation from less than A$3.0 billion to A$9.21 billion.