KLINGER Australia has just commissioned a new cutting machine on their shop floor in Western Australia that will increase current production capacity in the manufacture of soft-cut gaskets.
Bringing the latest technology in design and functionality, KLINGER's new Atom knife cutter system adds a new level of excellence to its existing, quality range of production machinery.
'Our enhanced scope of soft cutting machinery means we can improve productivity and capacity in soft cut gasket manufacturing by 50%' states Kevin Woolley; Managing Director
'Its customisable, automatic nesting system and user-friendly interface provide benefits such as reduced process times and maximised material yield. These benefits translate into increased efficiencies and a reduction in material wastage' explains Antonio Pacca; Warehouse & Logistics Manager.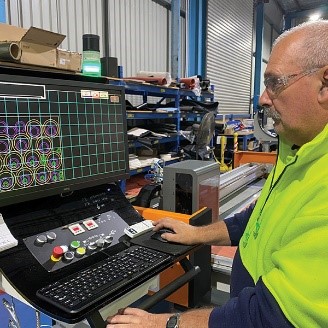 'It's considerably faster and easier for my team to set up each production run because it removes a lot of the complexity.  Firstly the interface is very easy to navigate, with popular options like finding different materials and sheet sizes for example at the click of a button. Secondly the overhead projectors enable us to directly see how the different gasket types are positioned on the sheet material. 
"This means we can very quickly and easily make the necessary adjustments to nesting, to get the most out of the sheet material.' explains Ron Judge; Production Supervisor
Ron has worked at KLINGER for 37 years and has witnessed how automation has evolved in the production facility, from using 13 presses many years ago to 3 machines today; delivering the same level of output.
'There's been a significant shift in production quality and consistency over the years compared to machinery used back in the day' mentions Ron.
KLINGER Australia's production capabilities include the manufacture of standard and custom-made soft-cut, metallic and semi-metallic gaskets. 
This provides customers in Australia and nearby countries in South East Asia the benefit of dealing with a local, quality manufacturer with the ability to expedite orders in fast turnarounds.
As the leading manufacturer in its industry, KLINGER Australia is committed to its execution of a constant improvement framework across the business. Its new knife cutter system along with integrated IIoT technology are important steps in continuing to improve production capacity to meet customer demand.
KLINGER remains at the forefront of the industrial sealing industry by investing in market leading technology, unrivalled industry knowledge and manufacturing capabilities.