Konecranes Executive Vice President, Technologies, Juha Pankakoski (centre) talks about the future of Konecranes digital solutions and the company's collaboration with Nokia on cloud technology.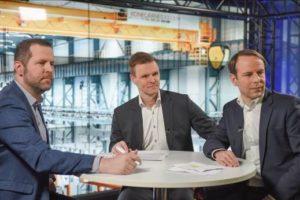 Konecranes is exploring advanced networks and global digital automation cloud that enable Konecranes to utilise future network technology and develop 5G capabilities already today. Konecranes has been one of the first companies to employ technology giant Nokia's Digital Automation Cloud.
Konecranes Executive Vice President, Technologies, Juha Pankakoski believes that this advanced technology – which was showcased at Hannover Messe this year – has potential to enhance Konecranes' current offering by increasing network capacity and reducing latency.
Mr Pankakoski first discussed the customer benefits of utilising cloud technologies at a Nokia studio broadcast at the end of last month (April), where he was joined by experts from Nokia and Business Finland.
Konecranes digital solutions are already implemented in global scale, with over 570,000 digitised service assets in 55,000 locations, including more than 1,500 in Australasia. More connections are being added every day.
Real-time equipment monitoring technologies, such as Konecranes' TRUCONNECT can be employed on any of Konecranes' broad range of overhead cranes, jib cranes, gantry cranes, and lifting devices, that can typically lift anywhere between 500kgs and more than 2,000 tonnes.
Konecranes TRUCONNECT technology monitors equipment in real-time.
"Konecranes is actively exploring advanced mobile networks that help our customers establish fast and reliable connections to cranes, even in harsh conditions where there is no general network available," said Mr Pankakoski.
"Konecranes equipment is used in a huge variety of industries, from basic manufacturing and assembly through to large logistics hubs and shipyards. There's no 'one- size fits all' approach when it comes to digital solutions for these industries, but the basic outcome remains consistent: to enhance the efficiency, reliability and safety of material handling operations," he said
"We see products becoming increasingly smarter, being able to sense not just their own status but also the environment they operate in, and ultimately become autonomous in performing operations that are required from them. In order for this to happen, we need to able to move more and more computing power to the edge, increase the communication bandwidth and decrease the latency. We see digital automation cloud as very potential technology that our customers may be using in the future, and wanted to be prepared for the possibilities it provides."
Advantages of the Cloud
As digitalisation and automation technologies accelerate, a huge amount of computer processing power is required to allow the collection and analysis of valuable data.
"By utilising the Nokia Digital Automation Cloud, we can locate this 'intelligence' or computing power within the cloud, rather than on the actual equipment." explains Mr Pankakoski.
 Konecranes and Nokia collaboration
Konecranes and Nokia share the similar objective of navigating the digitalisation and automation of industry in such a way that brings tangible benefits to companies across the globe.
"Konecranes is excited to work with Nokia, as the collaboration has potential to further enhance our digital service offering," said Mr Pankakoski.
"Factories of the future will have fully autonomous devices, capable of collaborating with humans and each other to manufacture and deliver products. But well before that happens, machines will become intelligent enough to guide humans to do their work better – thus making working places safer and the operations more predictable."
"The advanced network, combined with Nokia's Digital Automation Cloud, has the potential to bring machine-to-machine communications, IoT security and machine learning to the next level, which would particularly benefit our customers at ports and large manufacturing operations."