Australian laser subcontractor Online Laser Pty can manufacture twice as much as before with the help of Lantek's sheet metal CAD/CAM and ERP software.
Based in Bendigo, Victoria, the company has two Bystronic Bystar fibre lasers and previously used a proprietary system, which is now no longer supported, to manage the machines and the workflow through its factory.
Ben Harris, Programming & Production Manager says, "We were looking for an end-to-end system to manage our quotations, programming and production. With our old system there was no integration and we had to repeatedly enter the same information which was both time consuming and error prone."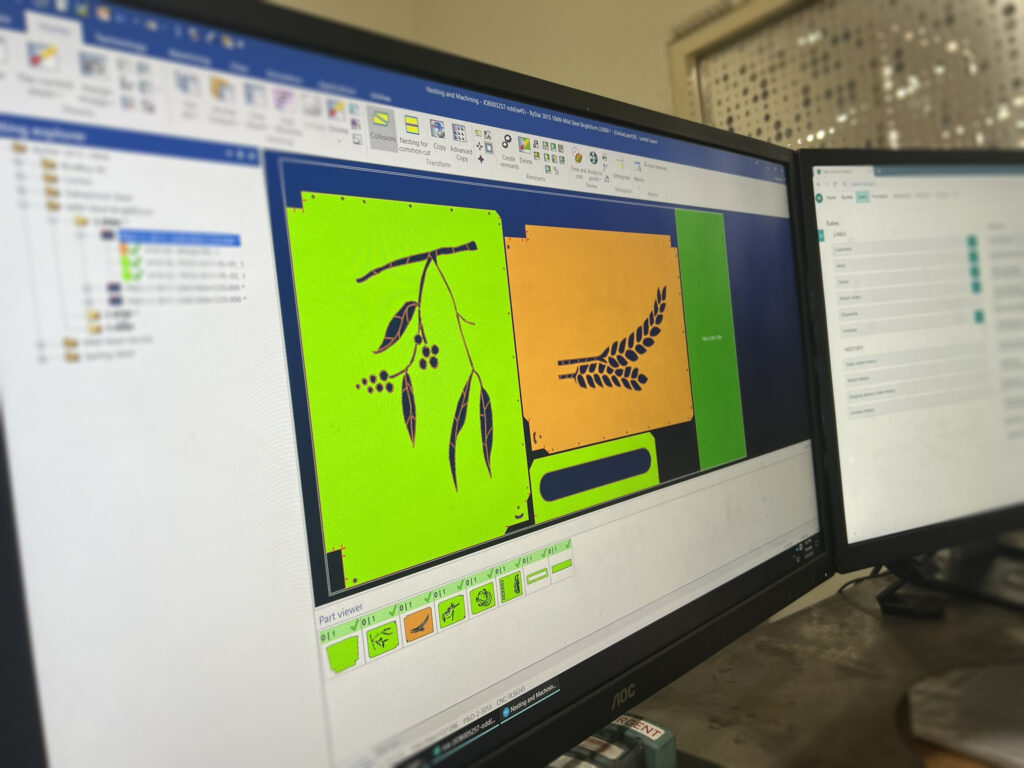 Online Laser installed the Lantek system in July 2019 comprising Lantek Expert CAD/CAM, MES, Integra and WOS. This year it added the Lantek Opentalk connection directly to the laser machines so that validation of the status of the machines and the parts being manufactured is automatic. Ben Harris adds,
"The vast majority of parts come as CAD models in several different formats, and we can import them directly into the Lantek software. The integrated Lantek Expert can quickly analyse the laser cutting times and within the Integra software combine them with subcontract costs such as folding, powder coating or machining to produce an accurate price for the whole job. Previously this could have taken a few days, now it can be done in 1-2 hours and sometimes in minutes."
Where the material type and thickness are the same, the company nests parts from different customers in the same sheet. "The inventory system is worth the investment on its own. We can manage remnants of material to use them up and keep track of stocks so that we don't suddenly run out of material. Now we only need to do a physical stock check every few months."
Once the job is complete, the Lantek software creates the invoice, delivery note and pallet label. It also knows when a customer has an account so that parts can be shipped immediately or, if it is a new customer, what the payment terms are before shipping. The interface to Online Laser's Xero accounting software automatically keeps this up to date with shipped and invoiced goods.
"The MES system and the real-time reporting from the machines gives us an accurate picture of delivery times. Everyone has visibility of the information, so we always give the customer consistent and accurate information on the status of their job. We have the ability to quote at 8.30 in the morning and have the parts cut by 11.00 am, in situations where urgency is required. We are definitely more competitive on price, and we can see the profit margin. We just installed V42 of the software and we can now do layouts at the quote stage, so prices are now even more accurate."
With the old system, Online Laser had difficulty managing 100 live orders. Now with over 200, it can operate quite easily. Ben Harris says, "During the Covid crisis, we continued to work, providing an essential service, and had around 450 hours of cutting hours ahead of us, a substantial increase from before the pandemic. We could not have managed without the Lantek software."
The Lantek Expert CAD/CAM software has been tailored to suit the company's machines with a very customisable postprocessor. For thicker materials it has been tweaked to allow pre-piercing before cutting, spreading the heat across the part to avoid problems from a heat affected zone. "The Post works well and is very customizable, and we have the flexibility of running any make and model of laser machine with the software."
Support and training is supplied by Lantek from its head office in Spain and from Klugo, which supports the software in Australia and New Zealand. Ben Harris says, "The software has definitely made the workplace a lot more efficient. We are a lot more transparent on cost and we can see where the profit is, which was almost impossible before. It is a vital part of our operation making us much more competitive, faster and efficient."