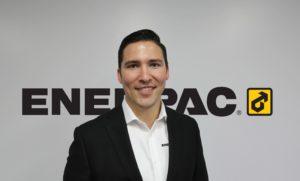 Mr Rustin Dring
 A Sales and Marketing Business Leader with extensive international experience in channel management and new product innovation has been appointed to head the Australasian operations of globally successful high-pressure hydraulic tools manufacturer – Enerpac.
Mr Rustin Dring will lead Enerpac's long-established teams in Australia, New Zealand and Papua New Guinea as they introduce a stream of new product, technology, services and distributor support initiatives. Under Dring's leadership, Enerpac will be looking to expand their value proposition to distributors and end-users by offering world class customer support for high-pressure hydraulic tools, controlled force products and solutions for precise positioning of heavy loads.
Mr Dring – BsC, MBA and a member of Enerpac's Global Leadership Team – takes overall responsibility as the General Manager of Enerpac Australia and New Zealand.
He will manage the introduction of several new product platforms, new strategic initiatives, and drive regional expansion while continuing to evaluate the best way to support Enerpac's customers and distributors in Australasia.
"This is an exciting time to be leading the highly experienced Enerpac commercial and operations teams. We will be working very closely with our strong distribution network to bring new and innovative ideas to the market and back them up with the world class support known by our customers from around the world. As we continue to push the envelope of new product innovation we always keep a keen focus on the safety, productivity and durability of our world class products and solutions, in areas such as:
Safety – several new Enerpac product designs incorporate lighter weight materials, reduced sound and vibration levels, improved operator feedback, and testing to the highest level of safety standards.
Productivity – Enerpac tools are more efficient through our designs and various new technologies. We look to eliminate wasted time from our customer's processes and applications. New motors and pumping technologies will greatly increase the power-to-weight ratios of our tools.
Durability – quality materials and a sharp focus on craftsmanship have always been at the forefront of our manufacturing processes and the Enerpac brand. We are constantly looking for innovative ways to improve the lifespan and the total cost of ownership of our tools and equipment."
Enerpac's new product and service initiatives will be complemented by Global Centres of Excellence, through which Australasian customers and distributors will have access to the best local and global support for the products and services offered through Enerpac.