Australia Manufacturing Week (AMW) 2022 news
Objective3D, a leader and the largest Stratasys provider of Additive Manufacturing (AM) solutions in Australia, has invested over A$2million to advance additive manufacturing at a production scale, including new innovative material offerings and an expanded AM software ecosystem with the availability of new polymer 3D printing systems for the Australian market.
The investment includes the latest in Stratasys technologies and a newly constructed manufacturing pods at the Objective3D Additive Manufacturing Centre located in Carrum Downs, VIC, making it the largest showroom and additive manufacturing service bureau in the region.
The new technologies are the Stratasys F770, J826, J35Pro, H350 and Origin One and will cover Fused Deposition Modelling (FDM), PolyJet, Selective Absorption Fusion (SAF) and P3™ Programmable Photopolymerisation.
"These new technologies represent an opportunity to seriously tackle production manufacturing using additive", said Matt Minio, Managing Director of Objective3D.
"Our greatest growth today comes from customers who either wish to manufacture serious production volumes on their own additive system or have Objective3D manufacture for them.
"These latest in-house technologies and new materials further enhance the ability for customers to manufacture greater production volumes using additive, producing components that are representative of injection moulded parts for their strength and surface finish. With the current disruptions to global supply chain, this technology couldn't have arrived at a better time."
These latest technologies are currently available in Australia and will be available for viewing at the Objective3D Stand (stand no. AM30) in the upcoming Australia Manufacturing Week (AMW) 2022.
SAF™ Technology powers new Stratasys H350 3D printer for production scale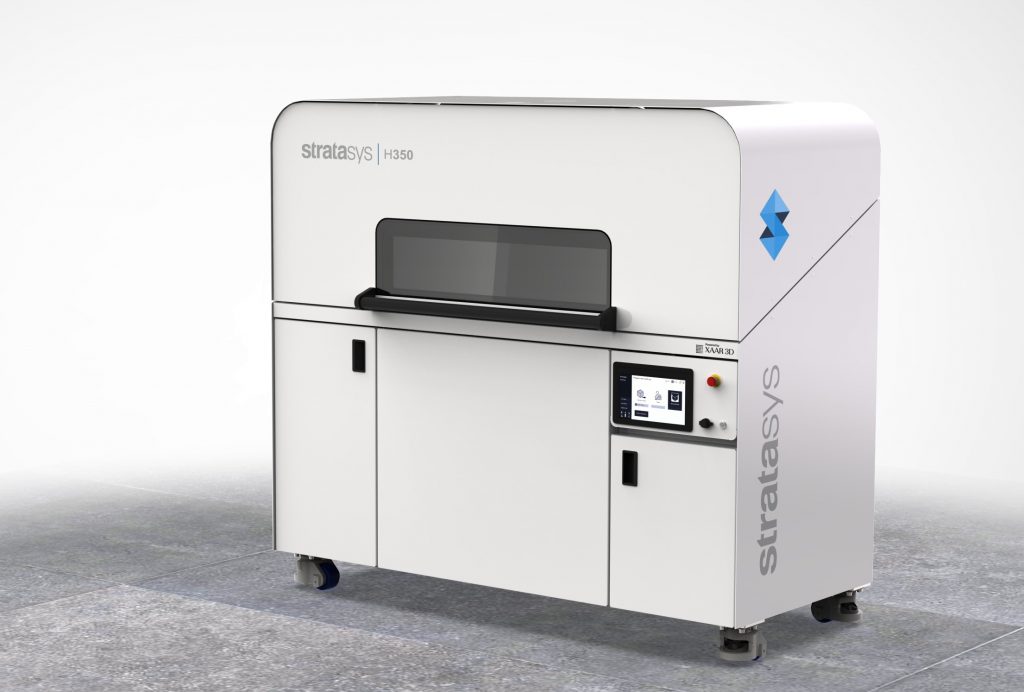 The Stratasys H350 3D printer is designed for the production of thousands of parts as additive manufacturing at higher volumes gains momentum in the industry.
The first 3D printer in Stratasys' new H Series™ Production Platform, powered by SAF™ technology, the new H350 printer delivers production-level throughput for end-use parts.
It is designed to give manufacturers production consistency, a competitive and predictable cost per part, and complete control for the production of thousands of pieces. Applications include end-use components such as covers, connectors, hinges, cable holders, electronics housings, and ducting.
Stratasys Origin One Brings Production Scale 3D Printing for Detailed and Intricate Parts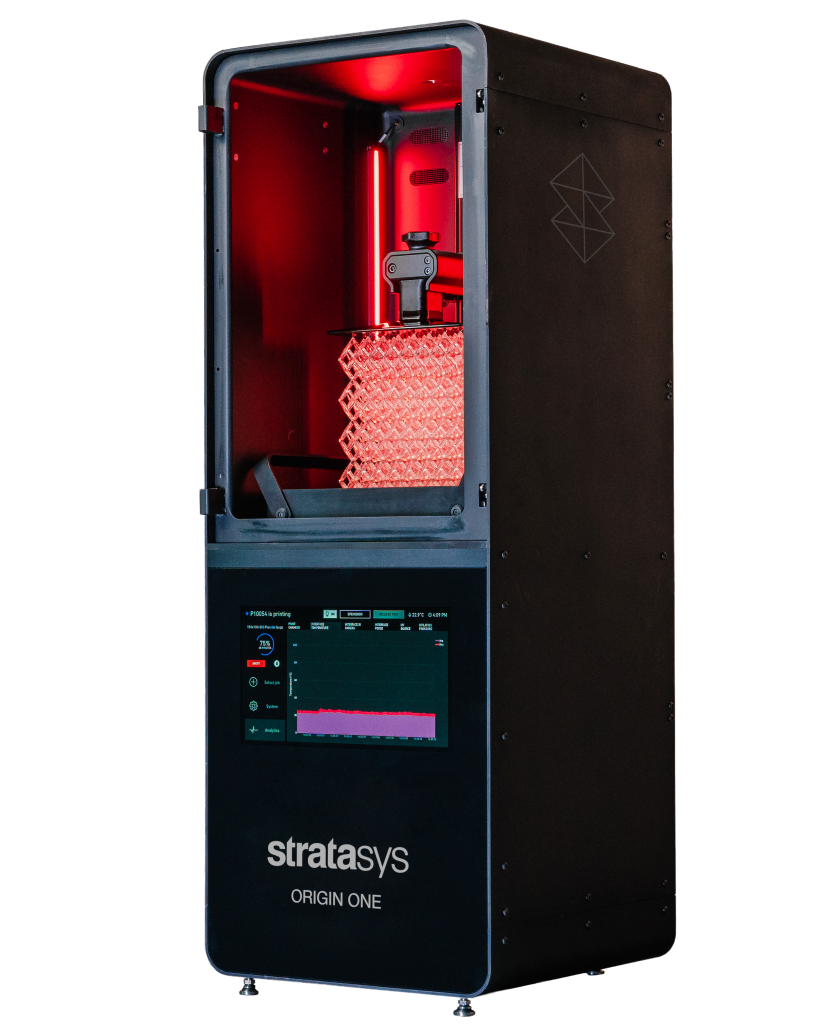 Origin's 3D printers are particularly well-suited to mass production of end-use parts, which is the fastest growing segment of the 3D printing industry and a strategic priority for Stratasys.
The new Stratasys Origin® One 3D printer, designed for end-use manufacturing applications, uses proprietary P3™ technology and a software-first architecture to produce parts at volume in a wide range of open, certified third-party materials with industry-leading accuracy, detail, finish repeatability, and time to part.
The Origin One is suited for the production-oriented segments, including automotive, consumer goods, medical, dental, and tooling applications.
Stratasys J55Prime and J35Pro PolyJet Solution to Inject Superior Design Capabilities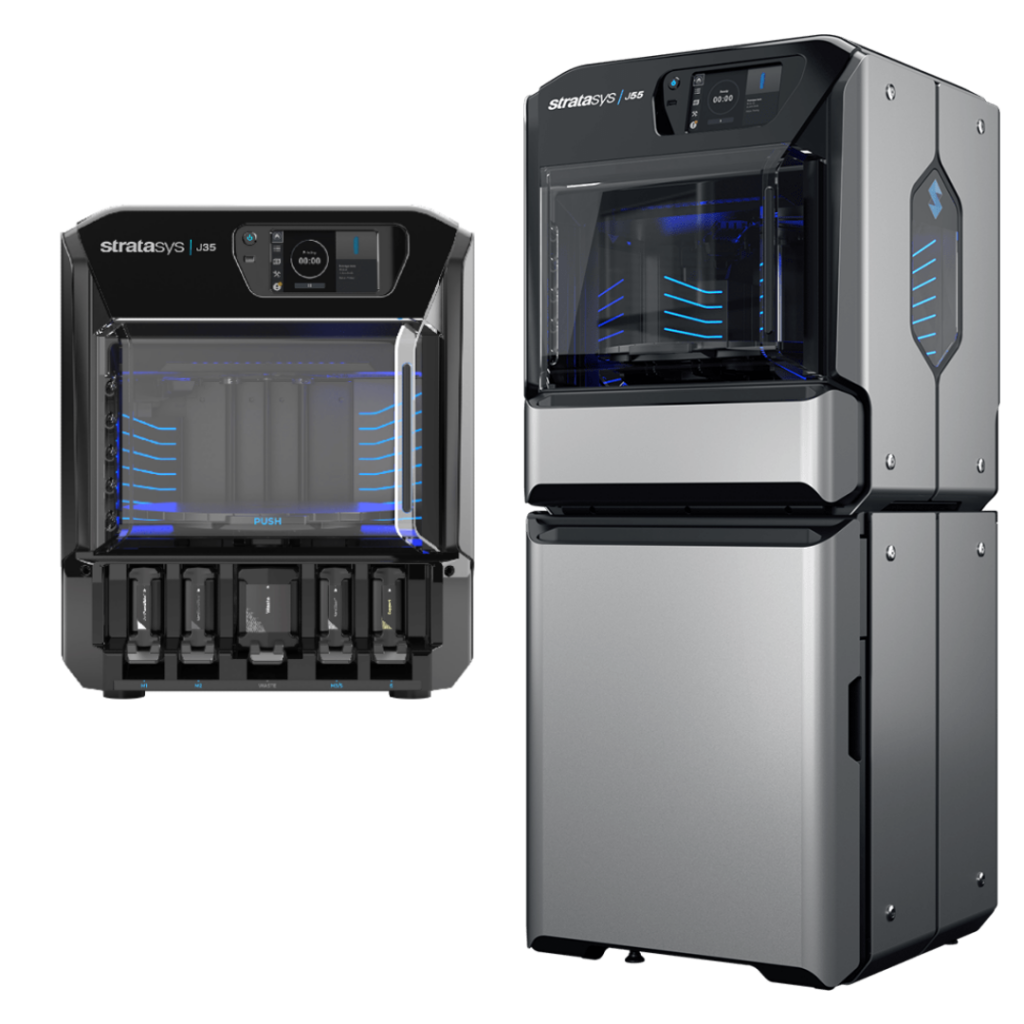 Stratasys J35™ Pro J55 Prime™ PolyJet 3D Printer
The new versatile J35Pro 3D printer accommodates everything from concept modelling to high-fidelity, realistic, fully functioning models.
This unique all-in-one, multi-material desktop 3D printer is ideal for the engineering and design office setting. With the J35Pro, users have the option to combine a variety of materials, including Vero™
UltraClear, that can be printed simultaneously, giving engineers and designers the versatility to produce parts that match their exact needs. In addition, the printer can incorporate up to three materials printed as single material parts or combined on the same model part, on the same tray. Applications include over-moulding, filling simulation and printing in full greyscale.
The J55Prime goes beyond full-colour printing with new tactile, textual, and sensory capabilities.
In addition to the existing highly realistic visual models, the printer utilises multiple materials that cater to design, functional and biocompatible prototyping, such as Elastico™ Clear and Elastico™ Black for flexible, soft-touch printing, Digital ABS™ Ivory for moulds, jigs, fixtures and functional prototypes.
Vero™ContactClear, a translucent material is designed for prolonged skin or bodily contacts such as medical devices, sportswear, or wearables and a range of Ultra-opaque colours for better plastic simulation, raising the bar in 3D printed multi-material models.
Other technologies available at the Objective3D Stand No. AM30 will include Direct Laser Melting Sintering (DMLS) from GE Additive, Lithography-based Ceramic Manufacturing (LCM) from Lithoz GmbH, Handheld TouchScreen 3D Scanner from Artec3D and the world's leading additive manufacturing software from Materialise.