OnRobot, a global leader in robotic end-of-arm tooling, announces the VGC10 compact electric vacuum gripper that addresses customer demand for a small but powerful and highly configurable gripper for nearly any application.
Based on the design of the award-winning OnRobot VG10 electric vacuum gripper, the compact VGC10 is smaller and lighter than its larger cousin, so is ideal for constrained environments and smaller robot arms, but offers the same impressive payload of 15 kg (35 lb).
The VGC10 provides fast out-of-the-box deployment but also offers unlimited customisation, with easily changeable suction cup options and the ability to add or replace arms to fit highly specific application needs. With this configurability, the VGC10 can grip and move a wide array of small, multi-dimensional, and heavy objects even with a lighter payload robot arm.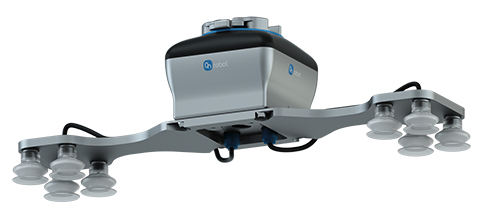 The VGC10 features two independently controlled air channels that allow it to act as a dual gripper with pick-up and release in the same action, further increasing efficiency and reducing cycle time.
The gripper can also be used with a single air channel for higher gripping performance. With no compressor or air supply needed—eliminating the cost, noise, space, and maintenance of producing compressed air—this compact electrical gripper is easy to implement and move.
Fully integrated software through OnRobot's new One System Solution platform makes it quick to deploy and redeploy on any major collaborative or light industrial robot arm for greater production flexibility.
"We heard from customers that they loved the features of the VC10 gripper but sometimes needed a more configurable, compact version, so we delivered," said Enrico Krog Iversen, CEO of OnRobot.
"The VGC10 is another great example of OnRobot's mission to be the one-stop-shop for innovative, collaborative end-of-arm tooling that lets manufacturers focus on their application rather than the complexities of the robot."
VGC10 Features
Compact, lightweight, and powerful
Replaceable, customisable arms
Configurable suction cups
15 kg payload, weight .814 kg (1.79 lb)
100mm x 100mm (under 4 ins) footprint
2 independent air channels for dual gripping
Built-in electric vacuum
No external air supply needed
Integrated software
IP54 rated for harsh conditions
Gripper market to grow substantially across Asia
A study by Future Market Insights predicts that the global robotic gripper market will experience substantial growth over the next 10 years, driven by the use of innovative solutions, the rise in applications as well as the growth in end-use industries. The market, valued at USD 1 billion in 2018, is projected to increase at a CAGR of 10 percent between 2019 and 2029.
The growth is expected to be dominant in the automotive, electronics and semiconductor industries and in Asia[1], specifically Asia Pacific[2], owing to the rapid growth of factory automation.
James Taylor, General Manager, APAC at OnRobot, said: "The roll-out of VGC10 is timely as Asia Pacific countries are embracing robotic automation at an impressive pace. Australia registered a density of 83 robots per 10,000 employees in 2018, above the Asian average of 63 units[3]. The VGC10 continues our commitment to help local manufacturers embrace automation easily and enjoy quicker returns through its flexible and compact nature, speedy deployment process and increased power".

---