New plummer block housings launched in Perth by Schaeffler Australia this month respond to industry demands for extended bearing life with reduced maintenance and total cost of ownership.
The new generation of FAG Plummer Block Housings are large-size bearing housings, engineered to increase the service life of fitted spherical roller bearings by up to 50 percent compared to conventional plummer block housings.
Their advances – including increased strength and shock resistance due to the use of (EN-GJS-400) spheroidal graphite cast iron as standard – make the SNS ideal for the broad diversity of applications where spherical roller bearings are widely used, including machinery operating in aggressive environments, says Schaeffler Australia Pty Ltd Industrial Heavy Industries Manager, Mr Jeff Gordon.
Key applications include industries such as mining and minerals processing, quarrying, cement, manufacturing, oil and gas processing, bulk materials handling (including port loading facilities), manufacturing and steel, primary product and food and beverage processing, pulp, paper, packaging and forestry, and major infrastructure and water and waste water plants.
The new plummer blocks – for shafts from 115mm to 530mm and from 4 7/16 inch to 19 1/2 inch diameter – are one of the latest global technology advances from the Schaeffler Group, which employs more than 80,000 people worldwide. Schaeffler's research and development centres alone employ more than 6,000 people dedicated to high-performance, low-maintenance bearing technology that enhances sustainability by maximising machinery life and minimising energy demands.
Such low-maintenance technologies are ideal for all industries that can't afford breakdowns or production stoppages, Mr Gordon told the Perth launch, held after the arrival of stocks of the first of the new technology bearings in Australia and New Zealand.
"Maintaining production is obviously vital in our energy and resources sectors – where even short interruptions and maintenance outages can be measured in millions of dollars – but whole-of-life performance is equally important to the broad spectrum of industry," Mr Gordon told representatives of major industries attending the launch on March 1.
The new SNS housing design distributes loads more evenly in the rolling bearing, extending the operating life of the bearing (left), while mounting, lubrication and condition monitoring are made much easier by numerous details of the new housing design.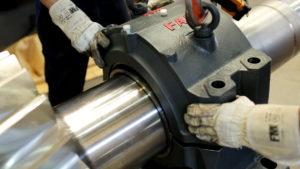 The unique, patented design of the FAG SNS plummer block housing distributes the load on the bearings more effectively (uniformly) than previous and alternative housings. Using its in-house developed bearing design, calculation and simulation software, Bearinx®, Schaeffler is able to analyse different housing designs with various combinations of bearings, enabling the optimisation of the complete system (housing and bearings).
The FAG SNS housing design is a split plummer block, which allows maintenance to be carried out more efficiently and quickly by providing easier access to the bearing, which saves time and money.
Additionally, Schaeffler can provide a special split labyrinth seal which facilitates the use of the FAG split spherical roller bearing inside the housing. FAG split spherical roller bearings radically simplify cutting, mounting and maintenance downtime by 50 per cent or more while reducing costs by eliminating complicated bearing replacement procedures in machinery and plant.
Four different seal variants including high speed labyrinth seals, split labyrinth, clip-in and bolt-on Taconite seals ensure effective sealing of the SNS housing to protect the bearing from harmful contaminants.
An axial lubrication groove in the upper section of the housing ensures optimum lubricant supply for bearings in every bearing position (for example, using FAG CONCEPT 8 compact lubrication system for grease and oil).
The design also integrates good anti-corrosion characteristics and reduced cleaning requirements, due to inclined run-off areas as well as a projecting upper housing section.
Further highlights of the SNS housing include:
• 100 per cent interchangeable with conventional solutions
• Easy and precise mounting due to locating surfaces that are reworked by machine and alignment marks
• Predefined mounting positions for condition monitoring technology (for example, FAG SmartCheck for vibration diagnosis in real time)
• Grease outlet holes supplied as standard to simplify maintenance
• Suitable for standard un-split spherical roller size range 115mm to 530mm, 4-7/16" to 19 ½", including Schaeffler's premium performance X-life class of spherical roller bearings
• Also suitable for Schaeffler's unique easily installed FAG split spherical roller bearing, size range 150mm up to 410mm, 5-15/16" to 16"
• Plummer block housings of series SNS are suitable for spherical roller bearing series 222, 223, 230, 231, 232 and 240.
"The focus during development of the new SNS housing was on compliance with customer and application-specific requirements," says Mr Grosvenor. "Criteria such as the bolt-on Taconite seal, single branded solution of bearing, housing and sleeve, increasing plant reliability, robustness and improved condition monitoring played a major role."
To enable improved condition monitoring of the bearings, connections are now provided on both sides of the housing as standard for Schaeffler's FAG SmartCheck condition monitoring device. However, if these two connections are not accessible, a centre mark in the upper section of the housing indicates the optimum mounting position for condition monitoring. Schaeffler can also supply the housing with connections for its new Concept 8 automatic lubrication system.
FAG Plummer Block Housings are suitable for a wide variety of spherical roller bearings, including the latest FAG split spherical roller bearings, which are typically applied on worm, bucket and belt conveying equipment, materials processing plant, motors, bucket wheel excavators and reclaimers, elevators, winches and sheaves, mixing and stirring plant, mills and crushers, sintering plant, drum type kilns, fans and ventilators, dust extraction plant, drive and transmission shafts, ventilation plant, rolling mills, ships and paper machinery, and primary product and food and beverage processing.
Also, due to the introduction of new, industry-standard mounting arrangements and dimensions, the housing can be installed as a direct replacement (retrofitted) for a wide variety of conventional plummer block housings.
The FAG brand SNS Plummer Block Housing is designed to reduce the total cost of ownership of industrial machinery widely used in Australia and New Zealand, where it is supported by long-established Schaeffler operations whose local expertise complements the company's global leadership.