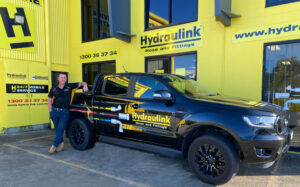 Hydraulink Mackay branch manager, Aaron Bollinger, says building relationships and solving customer problems are the keys to success that he has used to grow his career with Hydraulink
A man focused on building relationships and solving problems has risen through the ranks to become Mackay branch manager of the national hose, fittings, and hydraulic service organisation, Hydraulink.
Aaron Bollinger started as a service technician with Hydraulink, before moving into mobile service, breakdowns, and installations, then service manager, area sales manager, and now the branch manager at Mackay, Queensland.
"Hydraulink provided me with outstanding support and a clear pathway to progress my career. Along the way I learnt from different managers and colleagues, all with different styles and ideas, and all of them helped grow my knowledge," says Aaron.
"In Mackay, we service major industries, such as mining, sugar, and agriculture. The customers we work with want to minimise downtime and ensure safety compliance on their sites, so they trust us to get them moving again," he added.
Hydraulink and sister company Hydraulink CCR's extensive national network includes 14 company-owned sites in Australia, 135 network partners, and 150 service vehicles offering 24/7 onsite and mobile services to the same uniformly high levels of outstanding service, safety, standards compliance, traceability, and diverse machinery and equipment knowledge.
As part of his move to branch manager, Aaron undertook leadership training at the Hydraulink Academy, which he says was practical and hands-on.
"It didn't feel like we were in a classroom – it felt like we were working with real examples that we might encounter next week on the job. We were also given homework, to bring real examples back to the group and describe how we applied our new learnings. It gives us a chance to learn where we could have done better, so we can continuously improve," he said.
Hydraulink National Human Resources Manager, Paul Edwards, says whilst we can formally structure different career progression pathways, it's really up to individual employees like Aaron to take initiative and ask the right questions so that we can collaboratively plan the right mix of learning, capability development, and role experiences for our employees to ultimately achieve their career aspirations.
"Aaron is exactly the kind of go-getting employee we encourage at Hydraulink. He has mechanical aptitude, a strong work ethic, and he wants to grow and progress. He knows this business in and out, through growing his understanding from the ground up, so we were delighted to support him in his career progression," said Paul.
Relationships are key
During his career progression with Hydraulink, Aaron realised that building relationships with people – both within the organisation, and outside of it – was the key to success.
"Customers in the industries we work with aren't looking to save a couple of dollars – they want someone who knows the site, knows the people, and will do a high quality, efficient job. You only get trusted with these sorts of jobs if you build a relationship over time," says Aaron.
"Similarly, it's important to foster relationships within the organisation – I've learnt lots from different colleagues and managers over the years, and it's helped me grow as a leader."
"I'd encourage anyone in any role to take on the opportunity to learn more, and to just give it a go. Even if you don't feel you have the skills – there are ways to learn them. What's more important is attitude and desire to grow," concludes Aaron.