On International Woman's Day 8 March 2023, we invite you to meet Hailey Dicker, who lives in Brisbane.
Hailey decided to do a trade because she loves working with her hands, creating things with tools and learning how things work.
She was the TAFE Queensland Skills Tech school-based Apprentice of the Year 2022. tafeqld.edu.au Hailey is  employed at Barcat Fabrication.
"I found that I had no interest to go to university and I couldn't study for long periods of time. I did work at home with tools, building things, and maintenance, and it has now become my passion to be a boilermaker.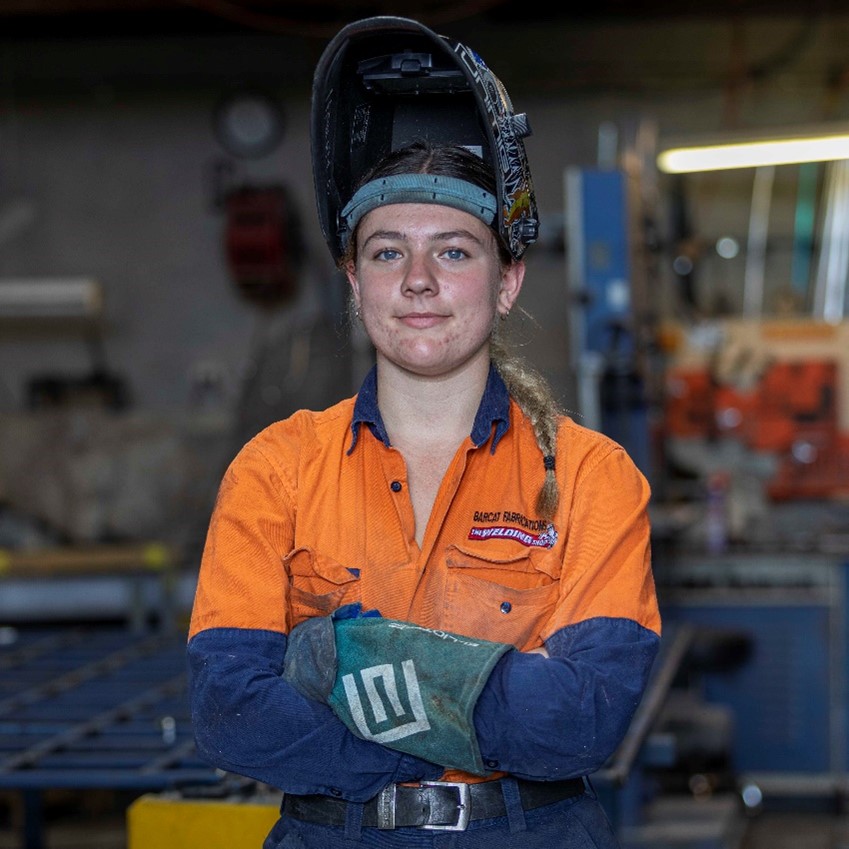 "A major challenge I have overcome since the beginning of my apprenticeship last year is self-confidence. I didn't have much confidence being in a male dominated career but as soon as I began, I gradually gained my confidence and created a new perspective.
"Whether it came to "not being strong enough" or "Only males can do that", I proved myself wrong and now can do almost anything a male can do in the workplace and I give everything a crack to the best of my ability.
'In five years, I see myself working in the mines saving money and gaining a lot of experience to benefit me in creating my own welding and fabrication business in the future. I see myself saving a deposit for a house and setting myself plenty of short term and long term goals for my ongoing career.
"My greatest achievement so far is beginning my career as a Boilermaker apprentice. It has been so inspirational and opened up many opportunities for my future. If it wasn't for support from my family and friends, I wouldn't be as successful as I am now.
"My experience training with TAFE Queensland has been absolutely fantastic. On campus at Acacia Ridge, the staff and teachers were very helpful and kind. Also, the training facilities and courses they offer are amazing and I would recommend other people start their future with TAFE.
"Beginning this apprenticeship has been an absolute life changing decision and there has not been one regret doing it. It has set me up for my future and shown me many things in the industry and I'm looking forward to always learning new things. I aim to pursue and set goals to be successful in my career."
Barney Dunn, owner of Barcat Fabrication said that Hailey came to him when she was only 15 years of age, picked things up quickly, and had an excellent learning ability for the trade and an understanding of how it all comes together and works.
Hailey gained respect from the other male staff members immediately, due to her understanding and knowledge of industry but mostly her attitude; she does not make excuses, nor expect special treatment and is willing to listen, learn and shows respect to all staff and customers. Barney says Hailey is by far the best employee he has hired in his long, long career and extremely deserving of being recognised for an award