Why was the pharmaceutical industry your chosen sector?
I've worked in the pharmaceutical industry for almost all my career. It is always rewarding to know the work you do is helping others live a healthier life.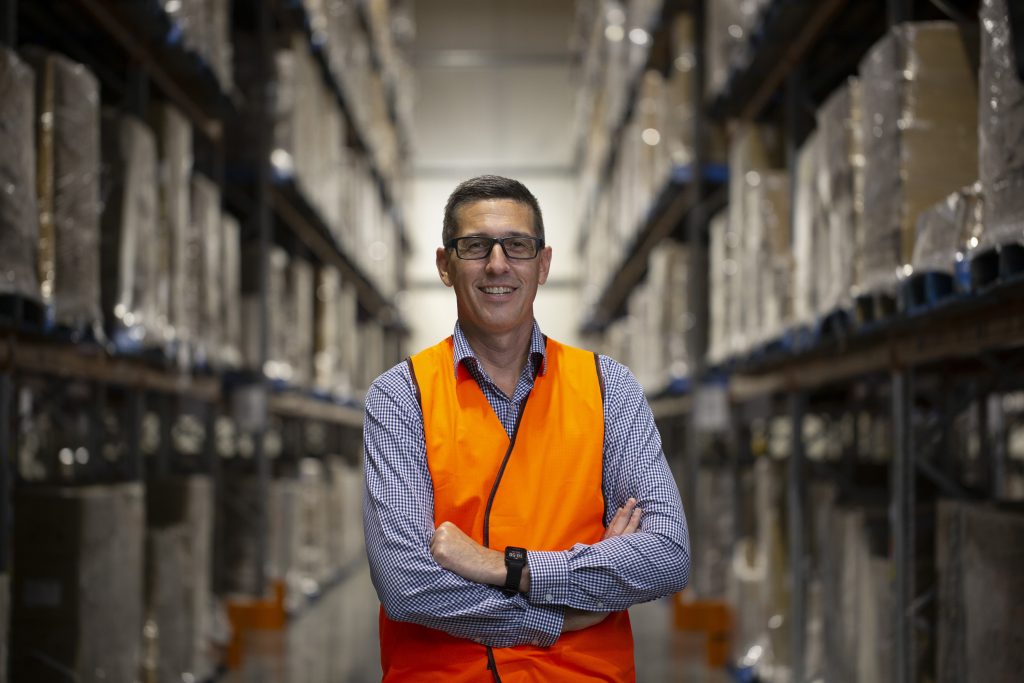 I am also involved in different community groups and charities and donate a lot of my time every week to them, which Viatris encourages its employees to do. Therefore, working in the pharmaceutical industry is a natural fit with what I value.
Can you tell us a bit about how you have grown in your career through a role in pharmaceutical supply chain?
I have been very fortunate to have headed up our supply chain through a period of significant and sustained business growth and transformation. In my time, I've led the supply chain through the combination of Mylan and Upjohn into Viatris, in which we've built a new Distribution Centre and we've almost doubled our distributed volume and product range.
This has meant leading a lot of interesting and challenging projects and having the opportunity to grow my team and develop new leaders and talent which has been really rewarding.
What has been some of your biggest career highlights? Any awards or moments of celebration?
A big career highlight has been overseeing the development of our new distribution centre. Before the centre, we were reaching our limits of warehouse capacity and had a complex supply chain as we were operating out of various locations.
Along with the expert employees in the team, we were able to consolidate our supply chain from one location to service our customers and by extension the Australian patients who rely on our medicines.
It has also been great to see our supply chain team continue to maintain an excellent safety record. Internal assessment and audit are core components of our EHS management approach and serve several purposes, including identifying risks to people, the environment and the company; fostering continuous improvement; and promoting knowledge transfer.
Our team have also won multiple supply awards from our customers over the years, recognising the performance of our supply chain and value we add to their business.
How is Viatris innovating through supply chain activities?
Viatris has been able to act courageously and are uniquely positioned to be a source of stability in a world of evolving healthcare needs, and our supply chain activities have been fundamental in our mission to empower people worldwide to live healthier at every stage of life.
As Australian health changes and evolves, it's only natural that we as a business do the same.
We will collaborate with our customers on initiatives that support our business and streamline our operations. For example, we place a lot of focus on optimising the purchasing parameters with our customers to achieve the best balance of order picking efficiency and accuracy as well as frequency of ordering.
For customers, this means that they can receive the stock quicker and make it available for sale, without generating excess stock on their books nor risking short-term supply issues by cutting their inventory too lean.
What is different about the Viatris Supply chain to that of other companies?
Something that is unique about our Australian Supply Chain team is that we run our own distribution centre and have all of our supply chain functions here in Australia.
It means there are 10 steps from my desk to the Supply Chain Manager, the Distribution Centre Manager and the Demand Planning team. This combined with our strong global manufacturing capabilities and supply chain network gives us agility to quickly respond to things that are happening in the market.
Could you tell us how you are being focused on sustainability in the local supply chain?
At Viatris Australia, we have conducted various new activities to work to advance responsible and sustainable operations and leverage our collective expertise to support our mission to empower people worldwide to live healthier at every stage of life, recognising that our actions affect the stakeholders and communities we serve.
A major focus for the design of the new Distribution Centre was around energy efficiency. Medicines need to be stored in temperature-controlled conditions, and it can be a considerable expense to air condition a very large warehouse space.
The selection of technology and building materials for the new Distribution Centre meant we were more efficient with our energy usage than in our previous premises. We are now working to reduce our energy related carbon emissions further by evaluating the addition of solar panels.
We also distribute temperature sensitive medicines that must be stored at specific temperatures in transit to the customer. This requires us to use 'one way' packaging to maintain these storage conditions. We have developed a delivery schedule to use a temperature-controlled vehicle which operates from our Distribution Centre in Brisbane to as far as Adelaide when needed.
This is estimated to take up to 40,000 foam eskies off the road each year, and also reduces the use of air freight to get those eskies to the customers in the shortest time possible.
What advice would you give to other people in the industry?  
Work to ensure that all levels of the supply chain team have good working relationships with their customer counter parts.
It's not productive for the heads of supply chain to have the best relationship in the world with customers, when your warehouse team leaders aren't able to communicate on deliveries and timeslots, or vice versa.