AI – It's been around for a while now. What is all the fuss about?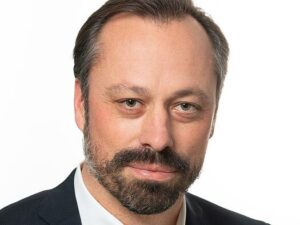 Dr Paul Flachskampf: AI is indeed not a new concept, INFORM has been leveraging these advanced tools to optimise business process for decades, but the excitement and "fuss" we see today stem from the significant advancements made in recent years.
AI has evolved to become more sophisticated, capable, and accessible than ever before. It can potentially revolutionise various industries by offering powerful decision-making tools, data-driven insights, and automation that were previously unimaginable.
As a result, businesses now have a new tool to optimise their operations, achieve higher levels of efficiency, and gain a competitive edge in the rapidly evolving landscape.
What are the benefits for businesses using AI?
Dr Paul Flachskampf: Businesses using AI can reap numerous benefits, particularly in manufacturing processes. AI tools offer serial manufacturers (in industries like food, pharma, cosmetics, etc.) precise demand planning, robust production schedules, and realistic plans.
By planning against limited, real-world capacities such as materials, machines, and personnel, AI optimises the process order, leading to shorter lead times, higher on-time delivery rates (crucial for contract manufacturers), and improved customer relationships.
Leveraging the power of Operations Research, Business Intelligence, and Artificial Intelligence, INFORM empowers Australian and New Zealand businesses to streamline operations, resulting in increased efficiency, enhanced sustainability, and improved profitability.
With data-driven decisions enabled by AI-driven solutions, businesses experience improved resilience, agility, and productivity.
Do you understand the doubts that exist around the technology?
Dr Paul Flachskampf: Absolutely, it's entirely understandable that doubts and concerns surround the implementation of AI technology. AI is indeed a transformative force that can lead to job changes rather than outright job displacement as is so often depicted in the media.
Many job roles will evolve, while others might undergo modifications. For instance, programmers now have access to tools that enable higher productivity within the same timeframe, potentially altering their tasks.
Although this could result in a reduction in labour input for certain job profiles, it can also create opportunities for new job roles to emerge, just as seen in previous technological evolutionary stages such as the transition from an agriculturally based society, the invention of the weaving mill, and the introduction of the ATM into banking.
An essential aspect of this transformation is the shift from routine and mechanical tasks to higher-order cognitive work. When utilising intelligent image generators or language models, professionals are required to think strategically about achieving desired outputs, elevating their roles to more complex and creative contributions.
Considering the societal implications, there might be a possibility of a decrease in the overall volume of work required for societal value creation due to increased efficiency. However, this could potentially open up discussions about reducing working hours while maintaining or even enhancing output levels, something several Scandinavian countries have trailed in recent years. Striking a balance between technological advancements and human well-being is crucial as we navigate the AI landscape.
What do you say to the doubters?
Dr Paul Flachskampf: To those who doubt the potential of AI, we want to emphasise that our approach to AI is grounded in a strong commitment to ethical practices and transparency.
We understand the legitimate concerns surrounding AI technology and actively work to address them in the development and deployment of our advanced software solutions. It is essential to recognise that AI is not intended to replace humans but aims to complement and augment their capabilities.
By leveraging AI, we strive to optimise decision-making processes, leading to more informed and efficient outcomes. We take pride in showcasing the tangible value AI brings to companies, and our extensive experience spanning over 50 years, with over 1,000 satisfied customers worldwide, serves as a testament to the positive impact of AI in various industries.
With a focus on responsible AI practices and proven success stories, we aim to instil confidence in the doubters and demonstrate the transformative potential of AI in driving positive change and growth for businesses and society at large.
How do you see AI improving productivity?
Dr Paul Flachskampf: AI's potential for revolutionising productivity in manufacturing processes cannot be overstated. By harnessing the power of AI-powered automation and intelligent software solutions, companies can streamline and optimise their production processes, achieving new levels of efficiency and competitiveness.
Through AI-based production planning, businesses can address the complexities of small batch sizes or unique productions, paving the way for improved transparency, agility, and cost optimisation. Integrating data from various departments and considering all relevant influencing factors lead to better decision-making and more effective resource allocation.
Digital production planning, facilitated by AI, goes beyond simply improving efficiency. It is a strategic tool to identify weak points in processes, guiding companies in making targeted investments that yield the highest returns.
Whether determining the need for additional machinery, hiring new employees, or optimising supplier negotiations, AI-driven insights provide a solid foundation for informed decision-making. Embracing AI-based production planning enables manufacturing companies to enhance their delivery reliability, elevate customer satisfaction, and strengthen their overall market position.
By combining AI's analytical capabilities with human expertise, businesses create a perfect symbiosis that helps them remain agile in response to business challenges and opportunities.
Robotics replaced workers in car manufacturing plants. Is that a form of AI but not called such?
Dr Paul Flachskampf: Traditionally, robotics is a form of automation that utilises machines to perform specific tasks with complete separation from humans. These more traditional systems have typically worked using traditional software programming solutions.
A newer field of robotics, called collaborative robotics (or Cobots for short) is emerging that is heavily reliant on AI but also fully supports human/machine collaborative working. This collaboration would not be possible without the implementation of AI into the software control systems.
We have a comprehensive understanding of AI at INFORM and build upon a long history of expertise in various AI areas. Our expertise spans from general problem-solving and decision-making to knowledge representation, automated reasoning, and deductive intelligence, as well as machine learning and intelligent control of autonomous systems.
We combine techniques from these diverse areas in a hybrid approach to develop advanced software systems that emulate core functions traditionally associated with human intelligence: decision-making and learning.
One of our approaches involves casting expert knowledge about business processes, behavioural patterns, planning objectives, and constraints into digital decision models. Utilising AI techniques such as constraint programming and OR algorithms like mathematical optimisation, our software systems can rapidly explore an incredibly vast number of alternative decision options, producing truly optimised results.
Additionally, machine learning techniques are crucial in automatically discovering new knowledge by mining patterns, classifying events, and making forecasts about volumes, times, and durations.
This enriched input from machine learning further enhances the decision models, improving performance and efficiency. By leveraging a holistic approach that combines expertise from various AI domains, INFORM's software systems demonstrate exceptional adaptability, efficiency, and accuracy.
As a result, our solutions empower businesses to achieve unprecedented levels of optimisation and productivity in their operations.
If you were a manufacturer, why would you use AI?
Dr Paul Flachskampf: As a manufacturer, I would use AI to gain a competitive edge in the market. AI-powered solutions can help optimise production processes and, reduce operational costs.
By leveraging data-driven insights, AI can enable predictive maintenance, ensuring that machinery operates efficiently and minimises downtime.
AI can also assist in demand forecasting, inventory management, and supply chain optimisation, leading to better resource allocation and improved responsiveness to customer needs.
 It is said that technological development creates further opportunities. How does AI do this?
Dr Paul Flachskampf: AI creates further opportunities by unlocking new possibilities and efficiencies that were previously unattainable. With AI, businesses can harness the power of data to make more informed decisions, identify market trends, and offer personalised customer experiences.
AI-driven automation can streamline processes, reduce errors, and increase productivity, allowing companies to focus on innovation and growth. Additionally, AI opens up avenues for developing entirely new products and services, catering to evolving consumer demands and driving overall economic progress.
If the technology is cost-prohibitive to manufacturers, how do they keep in touch with the game?
Dr Paul Flachskampf: While AI technology may have been cost-prohibitive in the past, it's essential to recognise that the landscape is continuously evolving. The key is to start small, focus on high-impact use cases, and gradually expand AI implementation as the benefits become evident.
By doing so, manufacturers can stay competitive and embrace AI's potential for long-term success. There are ways for businesses, including manufacturers, to embrace AI and stay ahead without breaking the bank.
Here are some tips on how to become "AI-ready":
Partner with AI Experts: Collaborate with AI solution providers or technology partners with expertise in your industry. By teaming up with experienced AI professionals, you can leverage their knowledge and resources to develop tailored AI solutions that align with your business objectives and budget.
Invest in Employee Upskilling: Train your existing workforce in AI-related skills. Encourage learning and development programs focused on data analytics, machine learning, and AI technologies. An AI-literate workforce can better integrate AI into your business processes.
Then, encourage cross-functional collaboration. By encouraging an environment where diverse expertise comes together, you can identify valuable automation opportunities while ensuring alignment with overarching business objectives. It's important to note that automation doesn't always equate to a complete loss of human involvement.
Many solutions still leverage human experts. Still, automation allows them to focus on critical cases where their knowledge is truly needed, a concept known as "Management-by-Exception." By fostering cross-functional collaboration, you can embrace a well-rounded approach to AI implementation. Human expertise combines seamlessly with cutting-edge automation, creating a powerful synergy that addresses operational challenges effectively.
This synergy ensures AI projects not only optimise processes but also empowers informed decisions based on human insights. Incorporating Management-by-Exception principles, you can maximise efficiency by automating routine tasks, freeing up valuable human resources to concentrate on specialised cases where their expertise is indispensable.
This approach enhances the overall efficiency of AI initiatives and delivers tangible value to your business.
Data is Key: Ensure you have high-quality, relevant data available for AI applications. Data-driven decision-making is at the core of AI, so having clean and reliable data is crucial for successful AI implementation.
Stay Informed on AI Trends: Keep yourself updated with the latest advancements and trends in AI. Technology is evolving rapidly, and new, more cost-efficient AI solutions may become available over time.
Government Support and Grants: Check for government initiatives, grants, or funding opportunities that promote AI adoption in businesses. Some governmental bodies may provide financial assistance or resources to encourage companies to embrace AI technologies.