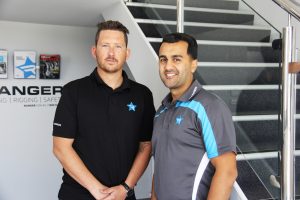 William Essey (right), technical sales specialist, is welcomed to Ranger Lifting by Ashley Thacker, general manager.
Ranger Lifting has named William Essey technical sales specialist, as the New South Wales, Australia-based company continues to expand its team at new Prestons headquarters nr. Sydney. Essey stepped into the role last month (December) but resumes in earnest as the New Year gathers pace.
Essey brings a wealth of relevant experience to the lifting and rigging equipment supplier, derived from 13 years in the marketplace, including a decade at Gunnebo Industries, a chain and component manufacturer. Recent roles include internal sales and purchasing in addition to regional and operations management. He was most recently sales manager at a fellow Sydney-side lifting and height safety equipment supplier.
Essey, who is extensively trained and boasts a degree in economics, said: "I was looking for a new challenge and have known Ashley [Thacker, general manager] and Steve [Thacker, managing director] since I started in the industry. I was passionate about staying at distributor level, dealing day-to-day with the end user market. Once I was aware of the opening, it was a speedy process. We share the same approach to business in terms of being customer focussed and I'm aware of the value they place on good staff, which further enhanced the appeal."
Ashley Thacker said: "Ranger are always on the look out for the best talent within the lifting industry. We are principally interested in whether a person fits the culture and with Will we could tell he did straight away. I have always been impressed with his approach to dealings with clients and ability to problem solve. When Will first left Gunnebo to move to distributor level I was keen on making the acquisition but the timing wasn't right. I was delighted when discussions renewed."
Essey cited industry's gravitational shift towards major independent companies versus national players. He explained: "The end user is looking for technical advice constantly and that comes from experience. Companies such as Ranger thrive on that with the level of experience and quality of personnel that they possess. The construction and civil industries, for example, are heavily reliant on urgency when it comes to ordering and inventory requirements. Businesses such as Ranger are the most responsive in these instances.
'They have impressive stock levels but more importantly place the customer at the centre of the business with their needs being of fundamental importance to the long-term success of the company."
That said, Ranger itself is in a phase of gazelle growth, having recently moved to expanded facilities and opened a second site in Melbourne, Victoria. Success, said Essey, will be based on the company's continued ability to maintain the core values of a family-owned, independent business with expanded scale and market presence.
Essey, himself, will focus on the Sydney market, however.