A robot that uses artificial intelligence to sort used Tetra Pak beverage cartons has been installed at APR Kerbside's Material Recovery Facility (MRF) in Truganina, Victoria.
Aimed at advancing the circular economy, this innovative recycling sorting technology has been funded via a joint investment between Tetra Pak and APR Kerbside.
As part of APR's future plans, aspirations for upgrade and expansion include the opening of new Material Recovery Facilities in Victoria and the commissioning of additional AI-powered robots to be rolled out over the next two years.
 In an Australian first, food and beverage processing & packaging company Tetra Pak has partnered with (Australian Paper Recovery (APR) Kerbside to implement an AI robot that can identify, and sort used Tetra Pak beverage cartons.
The robot has been commissioned at the APR Kerbside Material Recovery Facility (MRF) in Truganina, Victoria. This glass-out facility has the capacity to process up to 20,000 tonnes of materials annually and mainly sorts items from the kerbside stream. Such items collected from residents' yellow lidded recycling bins include paper and cardboard, steel, aluminium, plastics (bottles and containers). The robot has been training, learning to recognise all the different types of beverage cartons, like milk, soy, oat, almond, stock and juice ahead of its final deployment in the coming weeks.
The councils that are working with APR Kerbside are excited about this opportunity to divert more valuable resources from landfill. They are eager to expand the current kerbside service offering to their respective residents.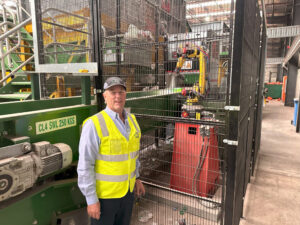 Darren Thorpe, Managing Director of APR Kerbside.
Vikas Ahuja, Sustainability Director at Tetra Pak Australia and New Zealand said: "Tetra Pak is incredibly proud to be pioneering this exciting recycling innovation with APR to further advance the circular economy in Australia. For us at Tetra Pak, to be the first market outside of the U.S. to introduce this AI-powered recycling robot is testament to the steadfast progress we have been making in our sustainability journey in Australia."
Darren Thorpe, Managing Director of APR Kerbside, said: "We take pride in being at the forefront of recycling innovation in the ways we tackle resource management at our Material Recovery
Facility (MRF). Future aspirations of expanding and working towards additional MRF's in Victoria will allow us to increase our processing capacity. We are looking to install more AI- robots as part of our upgrade and expansion plans. It is our commitment to continue supporting carton recycling infrastructure and enable the circular economy so that Australians know their recycling efforts aren't going to waste."
Tetra Pak has also supported the opening of Australia's first beverage carton recycling facility in Warragamba, New South Wales. APR Kerbside plans to transport Tetra Pak beverage cartons to the newly opened saveBOARD facility in Warragamba NSW so they can be recycled into sustainable building materials until the saveBOARD plant in Victoria (jointly funded by the Victoria Government) comes into operation in 2024.