Plenty filters and strainers are known for their reliable, robust, long-lasting products, which, once installed, will work reliably for many years.
They are designed to minimise operational and running costs in the plant and deliver exceptional performance. Within the Plenty range are a wide selection of solutions including leading simplex, duplex, backwashing and self-cleaning strainers.
Backflush filters
The Plenty Backflush Filter is designed to keep processes running without manual intervention.
Designed specifically for applications on water systems, Plenty Backflush Filters are available in a full range of sizes to suit most applications with a choice of stainless steel or cast-iron housings.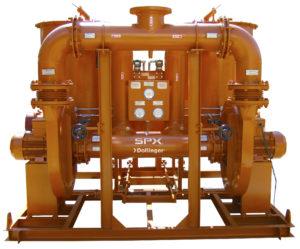 They are efficient to install, are designed to minimise product loss during backflush action, and do not require any separate back wash supply. The filtration element is available in a large range of sizes with mesh or wedge wire options to suit application needs.
Plenty Backflush Filters utilise system pressure for automatic cleaning, without interruption of the liquid flow or the need for an independent supply of clean water. 
Plenty Backflush Filters operate in normal filtration mode until a timer initiates a regular cleaning cycle or the amount of contaminate accumulated inside the strainer tubes restricts the flow passage, causing an increase in the differential pressure.
When the pressure drop reaches a pre-set trigger level, the automatic cleaning mechanism is actuated, and a sliding seal plate connected to the backwash outlet effectively blanks off each strainer element in turn from the inlet water.
Pressure within the strainer body is higher than the pressure in the backwash outlet pipe and so induces a flow of clean water in the reverse direction through the isolated element, effectively flushing away all accumulated debris.
Liquid and Gas process filters
From its Dollinger range, SPX Flow offers the highly efficient LL-142 liquid filters, which are engineered to remove final traces of dirt, pipe scale and other solids from process liquids. They use a radial fin element design to maximize the effective filtration area, which is up to 10 times bigger than equivalent tubular type cartridge filters.
This minimises pressure drop across the filter and increases its dirt holding capacity, thereby extending service life and reducing maintenance costs. 
The LL-142 filter can be customized to match specific process needs and is available with up to 200 different filtering media and a selection of construction materials to handle process and installation conditions. The filtration basket has a standard collapse pressure of 1.5 to 4 bar, with higher pressures available if required.
The Dollinger GP-198 gas coalescing filters are engineered to remove entrained oil, water mist, other liquids and solid particles efficiently from gas streams and compressed air. These filters are rated at an efficiency of 99.97% on 0.3 micron.
The Dollinger series GP-146 high efficiency filters are designed to remove final traces of dirt, pipe scale and other solid contaminants from process air and other gases. Unlike conventional multi-candle filters, the Dollinger element design concept maximises the effective filtration area for a given vessel size resulting in lower differential pressure and extended service life.
Oil mist eliminators
The Dollinger oil mist eliminator efficiently removes oil mists to keep equipment and its surrounding environment cleaner and easier to maintain. It captures oil droplets and particles down to 0.3 micron and prevents the formation of dangerous and slippery work areas. Once installed and running, it requires minimum maintenance with a filter element life of up to five years. The unit further increases economical operation by capturing escaping oil and recirculating it into the lube tank, to reduce turbine and compressor oil consumption.
All SPX Flow strainer and filtration solutions are designed for efficiency, exceptional performance, reliability and reduced total cost of ownership, which is reflected by reduced plant maintenance and operation costs.
They reliably protect valuable machinery and are backed by a full range of global, lifetime services. Optimal performance of standard solutions is further supported by advanced engineering capability to meet even the most exacting of installation and application requirements, along with the ability to design and manufacture complete, multi-technology skid solutions with fully integrated mechanical and electrical components.