RS Components (RS) is proud to announce a three-year partnership with Engineers Without Borders Australia (EWB), supporting its 'Regioneering' and 'Pathways' programs.
These programs are designed to inspire students from First Nations backgrounds in rural and remote regions of Australia and the Torres Strait Islands to explore how they can contribute to creating a better world through STEM-related vocations.
The EWB and RS partnership aims to strengthen relationships with First Nations communities; to inspire, educate and train students, practitioners, advocates and leaders of engineering; and to contribute to meaningful and lasting social change.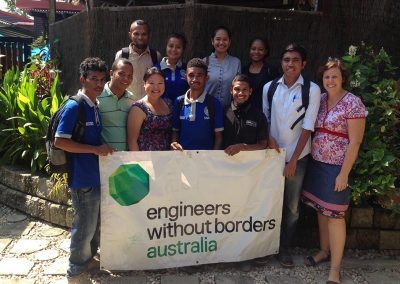 EWB Australia began in Melbourne in 2003 with a small group of engineers dedicated to harnessing the potential of engineering to create an equitable reality for the planet and its people.
Today, the EWB community includes thousands of people and dozens of organisations working together to create a world where technology benefits all.
EWB CEO Eleanor Loudon said, "RS Components multi-year commitment to EWB is significant. It ensures that our highly impactful programs can reach and inspire even more First Nations young people.
"This work is key in shifting the perception of what engineering is, communicating the role engineers play in the world with a focus on real-world examples in their own backyard, and portraying diverse examples of what an engineer looks like. We do this with hands-on activity based learning. This is critical in ensuring that the people creating solutions to some of the world's most wicked problems represent all voices in society."
Regioneering and Pathways is a focused part of EWB's Outreach program, which commenced in 2015.
Over the past year, this program has been delivered by over 190 university volunteers from the likes of RMIT, University of Sydney and Monash who have facilitated 266 workshops, inspiring more than 6000 students at 88 schools across Australia's six states and territories as well as the Torres Straits. 
RS Components, as part of parent company Electrocomponents plc, has a strong company commitment to ESG globally. Their recent partnership with the Washing Machine Project is supported locally through the ANZ region and this new agreement with EWB aims to build on this charitable commitment within the Australian community.
As well as a financial commitment to continue the remarkable programs which EWB runs, the RS paid volunteer leave program will actively involve their wider team in these community and life changing Regioneering trips. 
Managing Director of RS Components ANZ, Scott Phillbrook said, "We are incredibly excited about the partnership with EWB as it will allow us to make an impact with the engineers of tomorrow whilst also increasing our engagement with the Aboriginal & Torres Strait Islander community.
"The EWB partnership is a significant step in our commitment as a business to create long standing ties with this community."