First public viewing of SEA electric-branded trucks sets framework for company's growth in global electrification.
The recent Brisbane Truck Show held a significant presence for global automotive technology company SEA Electric, showcasing the first-ever public appearance of a full range of operational-ready electric trucks utilising proprietary SEA-Drive power systems, new SEA Electric branding, and the announcement of senior global leadership taking the company's helm throughout the Asia Pacific region.
SEA Electric is bringing electrification solutions and opportunities to nearly every corner of the globe, and in the United States it has added further assembly capacity, creating the current potential for approximately 60,000 units per annum. Further U.S. assembly, including in the area of batteries, is expected in the near future.
According to SEA Electric President and Founder Tony Fairweather, SEA Electric has not only created a low-cost delivery solution, but equally meaningful it has developed a medium voltage/lightweight power system with performance outcomes that exceed the internal combustion engine equivalent.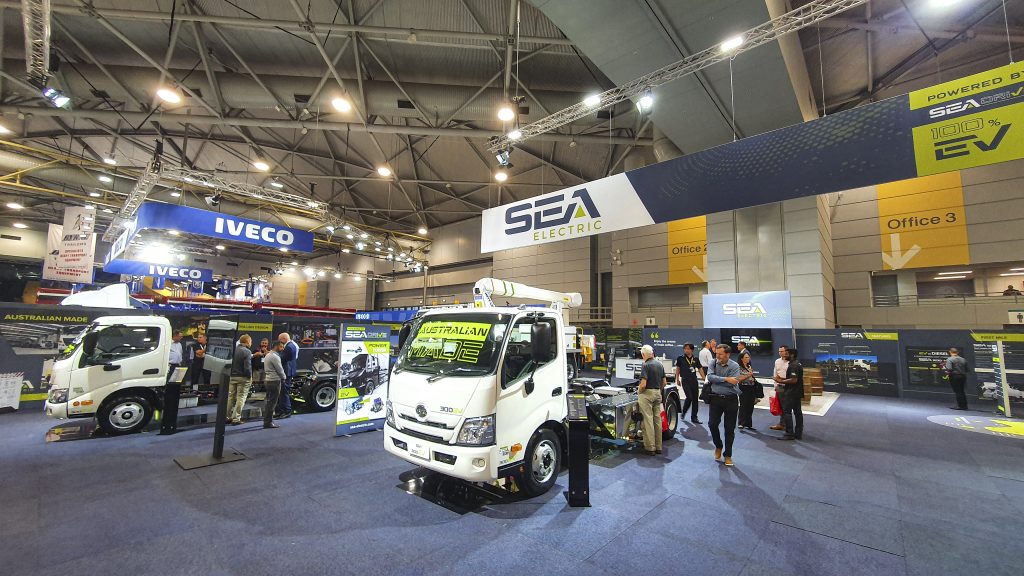 "Our own SEA-badged trucks – including the SEA 300 and SEA 500 in Australia – are derived from OEM Semi Knock-Down kits, creating further efficiencies to pass on to our customer base whilst supporting rapid OEM expansion into this segment," said Fairweather.
The product showcased in Brisbane sets the framework for SEA Electric to seamlessly fold into OEM dealerships and fleets, bringing forth both new and repowered electrification options.
The current three medium-size EV truck models are sold through a dozen authorised dealers in Australia, while more than 220 U.S. dealers are available to support the North American market needs.
SKD Assembly Provides Solutions Efficiency
Semi Knock Down (SKD) Assembly Operation – creating SKD 'Glider' kits – a first-of-its-kind three-way process begins with the cab,frame rails, wheels and axle components arriving in Australia, within containers from Japan, and upon arrival being assembled to provide a rolling chassis to support the appropriate proprietary SEA-Drive power-system to create a completely assembled SEA Electric-branded vehicle.
The vehicles are then ready for distribution.
But it is the SKD assembly operation's efficiency that creates a real game-changer for SEA Electric and facilitates the solutions and productivity the company can provide. With consistency of assembly, and a process that provides multiple efficiencies, there becomes very little waste, often eliminating extra componentry that previously would have been discarded in other retrofitting processes.
Agreements in the U.S. go one step further, utilising SKD and local glider assembly to set the benchmark for ongoing programs in North America and other SEA Electric markets around the world.
As an example, when containers in the United States arrive for SKD assembly, all electrification is then performed by authorised upfitters, solely using SEA-Drive power-system technology and branding.
The process of building the trucks from SKD kits or glider chassis provides multiple advantages over the retrofit option, including lower cost, quicker build times, and less waste.
The North American market, which recently became the new home for SEA Electric's California-based headquarters, has the largest capability for upfitting capacity at 60,000 units annually. The addition of a Des Moines Technical Center and planned offices in Chicago, Brooklyn, and Miami before August this year represents SEA Electric's commitment to the market.
With available volume and an ambitious capability to assemble the company's SEA-Drive technology, SEA Electric provides immediate and cost-efficient solutions that can be easily scaled to meet the needs for any fleet – whether new or existing delivery vehicles in need of new EV drive capabilities. Electrification of the yellow school bus industry is also in high demand in the United States.
Perhaps the most important business growth aspect of SKD kit and OEM glider assembly is the ability for the SEA Electric vehicle range to be available from a dealer network that provides complete sales, warranty, and service support.