Central 'single source' management of complex geological data unlocks higher value for mining and minerals, civil engineering, environmental and geothermal energy industries.
 Seequent, a developer of revolutionary visual data science software, has released Central 2.0 an advanced central management platform for an organisation's entire geological modelling activity that connects geology teams and company executives to insights and data not previously available to improve geological risk management.
Central was developed for use with Seequent's Leapfrog 3D geological modelling software.as part of the company's collaborative industry development process to better meet future needs in the mining and minerals, civil engineering, environmental and geothermal energy industries.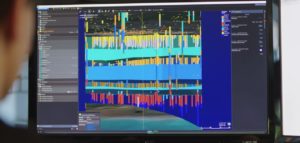 Shaun Maloney, CEO of Seequent, says: "The critical importance of managing geological risk has been demonstrated by many recent high profile project failures.  We're laser focussed on helping companies to get on the front foot to manage their geological risks – by effectively communicating this to project stakeholders, and enabling robust risk management plans to be developed."
Seequent has worked with dozens of organisations in each of its core sectors over the past six years to better understand how to help shift each industry to where it needs to be. It has backed this with multi-million-dollar investments in product R&D to extend the company's overall capability.
Maloney says in today's increasingly complex business environment, organisations are often running multiple projects at the same time and often from different locations, creating a huge amount of geological data that they need to rely on for important investment and environmental decisions.
"Ultimately it's about providing the insight and confidence organisations need to make time critical business decisions about their earth, environment and energy challenges. By enabling people to see stories within the most up to date data – it builds up a whole picture for projects – for example, allowing people to see sustainable ways of extracting value, or greater opportunities for clean energy. This provides a competitive advantage that delivers straight to the bottom line," he says.
Cross-Industry solution
 Central was initially developed in collaboration with the Mining and Minerals industry, to provide a single source of truth for geological model risk management. The Civil Engineering, Environmental and Geothermal Energy industries have been pivotal in helping make Central 2.0 a truly cross-industry solution.
Uranium major Cameco Exploration Central, a key development collaborator, is rolling out Central organisation-wide to centralise and standardise all active exploration projects, research and generative 3D data as part of a broader plan to digitise its business.
Central was designed to enable better collaboration between project teams and stakeholders and give a clear understanding about what's changed in a project over time and why.
Matt Carter, GIS/Database Manager for Barkerville Gold in Western Canada, says: "With up to 10 drills turning, we have many geologists needing access to the latest central project with the most current models and data. Central improves collaboration between all of our drill geos and our resource and modelling geos and ensures that the project they're accessing is the best version of the data."
Cristobal Valenzuela Millas, Senior 3D Geo Modeller at the small exploration company Quantum Pacific Exploration Chile (QPXC), says: "Central is helping our non-modellers to get closer to the modelling process by being able to peer review the models, and by being able to use those models to make important project decisions."
Central can be deployed either on premise or hosted in the cloud. To learn more about Central watch the video or to request a demo visit www.leapfrog3d.com/products/leapfrog-central