A Practica speed oven that delivers cook times up to 20 times faster than industry norms has had a fantastic reception at its first public showing by distributor J.L.Lennard, drawing top interest from pubs, clubs, restaurants, cafes, and takeaway groups.
The Pratica FIT Express – which uses a combination of high speed forced-air convection heating and microwave energy to deliver more even cooking without hot spots – was launched at Foodservice Australia in Melbourne in May, attracting more than 10,000 visitors from Australia and New Zealand.
The leading Australasian supplier of globally respected foodservice technology brands, J.L.Lennard Ltd, said the show gave the oven "a fantastic launch and visibility for customers seeking ways to boost service and profitability through easy-to-use, ultra-fast cooking technology swifter and less expensively than anything comparable".
"The new Pratica easily generated the greatest response among our strong and diverse display of foodservice products at Foodservice Australia. It generated the most inquiries of any of the many products we showed, with interest across the entire user spectrum," said J.L.Lennard Product Specialist, Darren Cooper.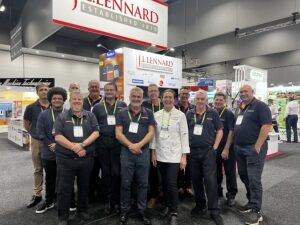 The J.L.Lennard team at Foodservice Australia
"We had response not only from pubs, clubs, restaurants, cafes, caterers, and takeaway groups, but also service station groups, fast food outlets, health care facilities, and accommodation providers. All of these diverse users want to be able to provide a greater range of fresher foods to their clients using technology that delivers food faster than ever before," said Cooper.
Suitable for a wide variety of fresh, chilled, and frozen food, and with 1024 stored recipes, the large cooking chamber oven with a compact footprint enables it to fit on a 600mm benchtop typical of users for whom it will boost service speed and profits.
"This quality, all-stainless and easy-to-use ultra-fast oven – which costs typically just two-thirds of traditional alternatives – is designed to cost-effectively drive business growth while decreasing pressure on kitchens," says Cooper. It is backed in the field by the renowned service of family-owned J.L.Lennard, which, with 144 years in business, is one of Australasia's oldest and strongest companies in food and beverage product supply and service, with a continuous dedication to customer satisfaction.
Easy to use, being controlled through a touchscreen with just two buttons, the Pratica FIT Express is ideal for both savvy youthful operators and those with young staff. This ease-of-use was a major attraction for inquiries at the Foodservice Show, including those who wanted to use it themselves or easily train existing and new staff to maximise output with quality. This ease of use was a major attraction in this time of chronic staff shortages across hospitality and foodservice providers, said Cooper.
"Visitors to Foodservice valued its simple functionality and easy cleaning, which suits a broad spectrum of established businesses seeking to increase menu options, including late night deliveries at motels, pubs, clubs, and others wanting to diversify their options and enhance profits without high staff needs."
The energy-saving design uses typically about a third less power than alternative types, consuming 11.48 KW a day over 24 hours, including standby, heatup, 10 hours of high performance use and 30-minutes cooldown.
"The Pratica FIT Express' simply-operated controls mean users are no further than two presses away from cooking all their favourite dishes, through a memory that can hold up to 1024 recipes with eight cooking stages, all operated by a simple-to-use, icon-driven touch screen – much like a smart phone!" says Cooper.
Features include:
Wi-Fi connectivity, USB compatibility, and recipe management are major features along with the largest cooking chamber in its category (12.4 X 12.1in 315 X 307 mm W X D) while occupying the least counter space
Curved oven interior for easy cleaning that includes a step-by-step guide with video-prompted support, plus detachable interior fittings for easy cleaning. Removable catalytic converter, front air filtration
Internet of Kitchen (IOK) system that operates free of charge to registered users and connects using a security encrypted WAP protocol from any Wi-Fi hotspot. Five-inch (127mm) touchscreen control panel. Capable of cooking programmed recipes in two touches.
FIT's design eliminates the need for dual-sided ventilation, allowing zero side clearance. Excellent thermal insulation does not transmit heat and noise to the environment.
Ventless system in which a catalytic converter and specialised filter turn grease-laden vapor into water to prevent vapour release from the equipment. No need for range or exhaust hoods.
Waste reduced by being able to keep product frozen or part-baked, then present them fresh through high-velocity air jet preparation, without compromising quality, when they are ordered