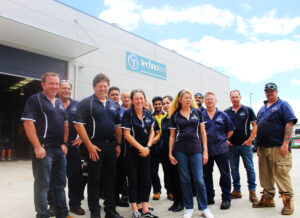 The Technofast team, left, outside their Australian manufacturing facility in Queensland. The company's problem-solving mindset and innovative hydraulic tensioning technologies have seen them grow to be a valued supplier of safety-enhancing and downtime-saving solutions for the mining, power generation, sugar, oil and gas, and other critical industries
A company dedicated to enhancing safety and reducing downtime through hydraulic fastening technologies for the mining, power generation, sugar, oil and gas, and other critical industries, Technofast, has been selected as one of Australia's Top 50 Most Innovative Manufacturers for 2023.
The awards were run by AuManufacturing, and judged by an independent panel with professional manufacturing industry experience, including industrial software and automation, human-centred design, policy, communication, and more.
Manufacturing is a major contributor to Australia's economy, and encompasses more than 100,000 companies and 900,000 employees. The industry experienced a $7.6b growth in earnings (17.8%) in 2021-22, according to the latest figures from the Australian Bureau of Statistics.
Technofast's core range of Australian-manufactured products – hydraulic nuts and hydraulic bolts – are used to provide precise tensioning on crushers, turbines, steel slitters, and a wide range of industrial applications.
Technofast tensioners can often turn a job taking days into one that takes just hours, and with less personnel required. This huge saving in downtime and lost production can often more than pay for the investment in the first use, and continue to provide ongoing savings and benefits.
And, importantly, safety is enhanced, because there is no longer the risk of hand or wrist injuries from using flogging spanners or torque wrenches in confined spaces.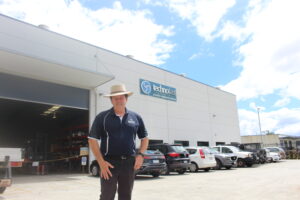 "To us, innovation means problem-solving," says Technofast Founder and CEO, John Bucknell. "It means looking at a problem that a customer or company is having and finding a new solution to do that particular task better, faster, safer, and ideally with ongoing benefits."
"Innovation has to have something 'new' and different about it. It's creating a product that allows a totally new method of performing a task," he says.
"As a proud Australian manufacturer and innovator, Technofast is delighted to be recognised in these awards, and we will continue to strive to find faster, safer, and superior solutions to industry's problems," he added.
Recent innovation: The Hydraulic Head Nut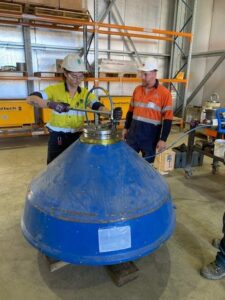 One of Technofast's recent innovations is the EziTite Hydraulic Head Nut, which has received an Australian Government grant via the Australian Manufacturing Growth Centre to commercialise the technology in Australia.
The Head Nut is used on gyratory crushers, which handle some of the toughest ore and materials, and are therefore subject to rapid deterioration from abrasion, which means their internal wearing components need to be replaced regularly. In order to change the mantle, which can happen as frequently as every 10 days in harsher environments, the retaining "head nut" has to be unfastened to allow removal of the worn component – a process previously done in a time-consuming and potentially hazardous way.
"The mantles are usually secured with very large mechanical nuts, which are often in excess of a metre in diameter and weigh hundreds of kilograms," explains Bucknell.
"These can become very tight during operation, so the standard practice used to remove them would involve flame cutting, removal of the 'burn ring,' and removal to allow this huge mechanical nut to be screwed off, generally with the use of battering rams, jackhammers, or other means of brute force.  Installation using these methods is just as difficult."
"This method is not only physically demanding, but the cutting of the burn ring can be hazardous and requires replacement after each use. Additionally, bolt load cannot be measured accurately."
"We knew we needed to eliminate the safety hazards of the current method and provide a faster changeout time."
The solution, the EziTite Hydraulic Head Nut, provides precise clamping forces generated by hydraulic pressure acting on a constrained area within the assembly. It is fitted with multiple in-built locking screws to retain these tensile loads after the hydraulic pressure is released.
The EziTite Head Nut is tightened using hydraulic pressure supplied through a pump to generate the massive forces needed to tighten these nuts., which means minimal physical effort is required and that extremely accurate and even bolt loads can be achieved.
The EziTite Head Nut reduces machine downtime and increases operational safety for workers. It is designed to work with all major brands of gyratory crusher, and the protective wear cover can be customised to suit the abrasiveness of the material being crushed.
Continued R&D focus
Over the past few decades, Technofast has maintained a steady R&D focus and has a number of patents for new innovations.
"We demonstrate our commitment to innovation by investing in R&D and developing new solutions. The best of these, and the most commercially viable, have become part of our product range that we sell Australia-wide, typically with shorter delivery times compared with imported products, and we now export our products overseas, too," said Bucknell.
"We believe strongly in Australian manufacturing, and we're proud to be contributing to this vibrant industry."