Entries in the 2019 Premier's Sustainability Awards close at 5pm on Thursday 13 June.
Finalists will be announced mid-August. All finalists are invited to attend the awards' ceremony on Thursday 10 October – a night of celebrating sustainability leadership, creativity and innovation across 11 categories.
2018 finalist in the Awards' education category was Albert Park Pre-School for their program, Keeping our Promise to Bunjil, a creator deity, to take care of the children and the land.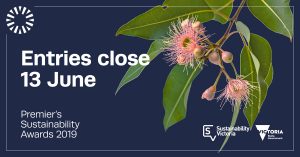 Jenny Whelan, Administration Director, from Albert Park Pre-School said, "Attending the Awards dinner provided a wonderful opportunity to pause and celebrate as a team. To listen and learn from the stories of others and share time with people dedicated to caring for our world inspired us to dream big."
Finalists and winners are provided with media releases, photos and social media graphics to help promote their involvement with their staff, their customers and their communities.
Now in its 17th year, the Premier's Sustainability Awards continue to grow and reflect action happening across industry, business and community from regional to metropolitan Victoria.
So, what are you waiting for? Get the team together, see category criteria and profiles of previous entrants, then lodge your entry at www.sustainabilityawards.vic.gov.au.