David and Michael Brim started Tomcar in 2005.They make small, but tough, off-road vehicles. They make a car every four days.
Tomcar came from outside the industry and this is a real good example of disruptive technology.
As a start-up Tomcar didn't have the resources of large car companies but they had access to cloud computing so it allowed them to disrupt the industry.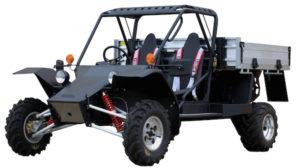 Tomcar bypasses car dealers and sells direct through its small sales team and website.
Selling cars on the internet, people thought they were crazy. The company doesn't have the margins there and put all that back into the product which is a very expensive handmade piece of machinery. 
David Brim estimates the pair have funded the business to the tune of $15 million with "very small" amounts of shares sold over the years to family and friends.
"We are getting there, it's an expensive business," he says. "You need to not know anything about the car industry because you wouldn't do it otherwise. But if it's done correctly, it's very profitable. Just look at Tesla, Elon [Musk] and his team are much better funded than we are but they have a very similar model."'
Also of note: they do not actually assemble their cars, outsourcing production to MTM. Like Apple, they handle all of the seven steps of manufacturing besides production.