For his 60th birthday, Sydney painting contractor, Peter Avery, treated himself to a new Daily 4×4 and in doing so, he found a dual purpose vehicle he could use for both his business and spare time.
As the owner of Innerwest Painting Services, a company specialising in residential, heritage, commercial and industrial painting, Peter previously operated a van to carry his materials and equipment.
But when the time came for an upgrade, he thought outside the square and began to research a vehicle that could replace not only his van, but also his recreational four wheel drive.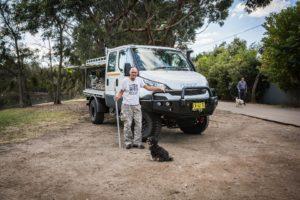 "Whenever I'd go away on weekends camping or four wheel driving, my wife would always complain that she'd be left without the car," Peter said.
"This lead me to start looking for a vehicle that could serve both purposes – something that would be suitable for work, but that I could also use to get away on weekends and on longer trips."
After much research, Peter settled on the Daily 4×4 Dual Cab and then sought to customise the truck to meet his trade and camping needs.
The Daily now features an aluminium canopy with heavy duty roof racks, a dual battery system, 240 and 12V power sockets, a long range fuel tank, an under tray water tank with pump, and a bull bar and winch.
A reversing camera also helps Peter squeeze the truck into tight parking spaces in the inner city, where most of his work is done.
"The canopy has plenty of room for paint, along with various sanders, pressure washers and other equipment, it also has a net that acts as a mezzanine type level where I can carry lighter equipment such as brooms and poles," Peter said.
"Access to the inside is via gullwing-style doors that have integrated lighting underneath, so when you're camping or on site early, you can see what you're doing, the doors also provide some shelter from the rain."
Peter said the Daily 4×4 not only is an uncompromising off-road vehicle, fitted with 37" tyres, ultralow gearing and triple differential locks as standard, but also comfortable for use in an urban environment.
"The cabin is well appointed, the visibility is excellent and the air suspension seat makes for a very smooth and comfortable ride," he said.
"It feels much more like driving a passenger car rather than a go anywhere light truck.
"The 3 litre capacity engine has plenty of torque – I'm very happy with it. I rarely need to go over 2,000 rpm and in terms of fuel consumption, it's surprising how efficient it is."
Aside from its suitability as a work vehicle around the city, Peter said he was extremely impressed with the Daily 4×4 once the bitumen ended.
"The Daily is a lot more capable off-road than anything I've driven before," he said.
"The gearing is incredible, it's like a tractor and can just climb everything in its path.
"When I go away on weekends, I don't even bother taking a tent, I just sleep across the back seat. There's seating for four in the back and this easily accommodates me at a height of 5' 11".
"Storage throughout the cabin is generous and under seat storage in the back is enormous, I reckon there's more storage space throughout the cabin of the Daily than there is in the back of a small four wheel drive."
Another thing that Peter has discovered since owning a Daily 4×4 is that he can no longer anonymously go about his day to day business without being approached by interested strangers with a list of questions about the imposing vehicle.
"The vehicle raises curiosity to such an extent that a week doesn't pass where I'm not engaged by at least a couple members of the public, asking me what it's like to have a Daily for both off-road and urban use," he said.
"There are also a few people within my four wheel drive club that have seen mine in action and are now saving to buy one of their own.
"I absolutely love this vehicle, it ticks all the boxes and I could never go back to any type of van for work – the Daily 4×4 does it all with the added bonus of being an awesome off-road beast."