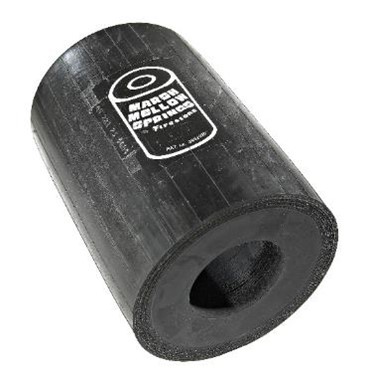 Vibration occurs in all rotating or reciprocating machinery as a result of forces generated within it.
Sometimes the vibration is intended, as in vibrating screens and vibrating conveyor sections, used by the food, beverage and the mineral processing and bulk handling industries, for example.
Sometimes it is caused by imbalances in rotors, bearings, springs, and gears as vibration migrates from its source to surrounding structures and wear-prone components.
If this vibration is not controlled within its intended limits – and where metal springs may bottom out, settle, crack, or break occur as a result – the consequences of unintended actuation and isolation patterns can include:
Energy waste due to kinetic energy required for unwanted vibration
Bottoming out under overload and surge, sending a large amount of stress to all of the machine's components.
Bearing failures, metal spring cracking and collapse, metal structure cracking and weaknesses – potentially leading to unexpected plant shutdowns.
Operator fatigue and noise nuisance (NVH – noise, harshness, and vibration, which is increasingly a factor in workers' compensation issues)

A simple, robust, and effective means of solving vibration and isolation problems created by such equipment is provided by Marsh Mellow springs, which are fabric-reinforced solid rubber isolators used for quiet isolation of machinery vibration and for general shock absorption throughout industry.
The cylindrical springs, developed by Firestone – the world's biggest producer of air springs for isolation and actuation – are used world-wide as an alternative to metal coil springs for applications involving building, construction, computer, electrical and electronic equipment isolation, including with motors, gearboxes, compressors, conveyors, materials handling machinery and shock absorbers.
Marsh Mellows give consistent performance regardless of changing loads, while offering high lateral stability and compact size, says James Maslin, Technical Product Manager, for Marsh Mellows' Australian distributor, Air Springs Supply Pty Ltd, which has a nation-wide sales and service network, established for more than 30 years.
Marsh Mellows can more compactly and inexpensively replace metal springs in many applications, he says. "Obviously there are horses for courses, but Marsh Mellows are ideal for many applications and eliminate many problems with traditional spring installations. Naturally different types of springs have different performance characteristics suited to particular tasks. These should always be discussed with suppliers having wide experience in the particular area of application being considered," he says.
Marsh Mellow springs are constructed of a solid rubber core with a hollow centre and several plies of fabric-reinforced rubber as an outer cover. The plies provide the springs with stability as well as a consistent cylindrical shape, says James Maslin, whose Air Springs Supply experience spans several hundred applications of both solid Marsh Mellow and hollow, bellows-type, Airmount® air springs throughout Australia.
Tolerant of Overload
"Marsh Mellow springs are quiet in operation, unlike steel springs which readily transmit high frequency structural noise and often suffer from coil chatter. A failing coil spring may crack, causing fragments of the coil to damage equipment, resulting in expensive downtime. This problem is eliminated with Marsh Mellow springs, which are tolerant of overload and, if they ever do fail, do not fail catastrophically."
"The quiet performance of Marsh Mellows – and the fact that they resist water and grit – means they are ideal for applications where high levels of workplace safety and hygiene are essential. Such applications can range from manufacturing metals and minerals plants through to primary processing, timber and paper, food, and beverage."
Marsh Mellow advantages
Marsh Mellow operational advantages include:
Constant Vibration Isolation With Changing Loads – The variable spring rate allows for nearly constant natural frequency with changing loads. This results in consistent isolation with variable loading.
High Load Carrying Capability – Greater deflection capabilities and load carrying influences of the fabric reinforcement provide greater load carrying when compared to an all-rubber part of the same modulus and dimensions.
Lateral Vibration Isolation – Lateral spring rates of Marsh Mellow springs can be less than the vertical spring rate, resulting in a lower natural frequency.
Compact Overall Size – The ability to support greater loads and maintain cylindrical shape results in a smaller overall size compared to an all rubber spring with identical load capacity.
Corrosion Resistance – Due to its rubber and fabric reinforced construction, the Marsh Mellow spring has been proven in the damp and corrosive environments of mines and mills where a standard coil spring will fail.
Do Not Bottom Out – Do not bottom out like coil springs.
More Reliable and Safer in appropriate applications – When a coil spring fails, it will often crack allowing fragments of the coil to damage equipment. This problem is eliminated with the fabric reinforced rubber construction of a Marsh Mellow spring. Additionally, Marsh Mellow springs exhibit exceptionally high overload characteristics and usually do not fail catastrophically, offering some support even during failure.
Effective Noise Reduction – Reduce structurally transmitted noise caused by vibration. Marsh Mellow springs are quiet in operation, unlike steel springs which often suffer coil chatter and readily transmit high frequency structural noise.
Low Cost – High load capability means fewer springs may be needed in an application, resulting in less overall cost