A market leader in highly intelligent visual information systems and a telemetry products maker swept the pool at this year's Hunter Manufacturing Awards, collecting their gongs at a gala presentation at NEX in Newcastle on Friday, 20 October. 
Carrington-headquartered Hi-Vis won the 2023 Manufacturer of the Year – 50 Employees or More Award, along with the Excellence in Sustainable Operations Award and the Excellence in Manufacturing Capability Award.
As a market leader in highly intelligent visual information systems (HIVIS), its products have been keeping Australians safe for more than 40 years. Hi-Vis has made significant investments in manufacturing technology and enjoys a close relationship with the engineering department at the University of Newcastle.
Hi-Vis CEO Brett Watson said the company was deeply honoured and felt very privileged to win three awards.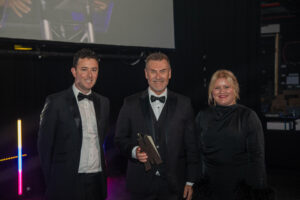 "We were completely stunned on the night," Mr Watson said. "All my gratitude goes to my fabulous team who 'turn coffee into award-winning products'. To win Manufacturer of the Year is a huge achievement. Thank you to my team who worked tirelessly on the submissions to the HMA. We are proud to be a Hunter manufacturer."
In the picture: Downer Group NSW General Manager Daniel Chaplin with Hi-Vis CEO Bett Watson and HMA Chair Jacqui Daley.
The other major award winner, for Manufacturer of the Year – Less than 50 Employees, was telemetry products maker Senquip. The Taylors Beach-based business manufactures telemetry equipment that monitors and controls remote machinery in harsh industrial environments.
Senquip also picked up the Excellence in Product Design Award. Its patented telemetry products are highly adaptable and replace the need for bespoke solutions. Senquip sells globally with significant potential for growth in each of its international markets.
Senquip CEO Norman Ballard said the company was honoured to be recognised as a manufacturing leader in the Hunter and exporter to the world.
"Our products connect machines to the internet in Australia, New Zealand, England, France, Spain, Germany, the US, South Africa, and more," Mr Ballard said. "We would like to thank the HMA for an excellent evening, and the NSW Government for sponsoring the Manufacturer of the Year Award."
Mr Ballard also extended his gratitude to Biscit for sponsoring the Excellence in Product Design Award.
"Senquip products must be well designed to fulfil their function in the harshest of environments and so to be recognised for excellence in product design is extremely rewarding for our team who have spent so many hours pondering the detail," he said.
In recognising the winners, HMA Chair Jacqui Daley referred to the chosen theme for this year's awards, "Made in the Hunter, for the World". She said it encapsulates the very essence of what the Hunter Manufacturing Awards stand for.
"In a world marked by increasing demand and government initiatives aimed at advancing manufacturing capabilities, our local manufacturing sector is experiencing a resurgence," Ms Daley said. "Manufacturers are innovating across a diverse range of sectors, from the medical and food industries to supply chains, embracing smart technologies and revitalising traditional processes."
Reusable menstrual disc maker Hey Zomi took out the Excellence in Marketing Award and co-founder Zoe Fehlberg said "she loved" that the awards celebrate manufacturers across all industries, including period care.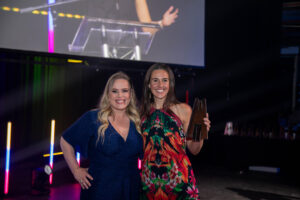 "It's so exciting at this stage of our business to be recognised as manufacturing leaders in our region," Ms Fehlberg said. "To us, this award validates our vision – to create strong innovation with the highest-quality Australian manufacturing that empowers menstruators everywhere."
In the picture: LIVMEDIA founder Livinia Hutchinson (left) sponsor of Excellence in Marketing with Hey Zomi's Zoey Felhberg.
Fellow co-founder Mika Koelma said it is important that Hey Zomi clearly communicates and connects with its customers to enable them to have periods on their terms.
"It is so rewarding to receive this recognition because our strategic marketing plan resulted in Hey Zomi's rapid growth," Ms Koelma said.
Ms Daley said HMA's mission is clear. "We aim to champion best practices in manufacturing and inspire businesses to soar to greater heights," she said. "While not every entrant and finalist may have their sights set on international markets, we are committed to fostering exploration of global opportunities and leveraging the strategic location and robust transportation infrastructure of the Hunter region.
"It is an honour to acknowledge the outstanding achievements of manufacturers from the Upper Hunter, Lower Hunter, Central Coast, Lake Macquarie, Newcastle, Port Stephens, and Mid-North Coast regions. The Hunter has been the host of some exciting media announcements for our industry in 2023 and there is no question the region is firmly positioned for ongoing support and success in manufacturing."
Ms Daley noted the commitment from the State Government to manufacture trains again in NSW. She said the Hunter is perfectly positioned to deliver. She also cited the international terminal expansion at Newcastle Airport, the clean-energy precinct planned for Port of Newcastle, and Australia's first lithium-ion battery giga-factory.
It was the 19th year of the HMA, but Ms Daley said 2023 also marks a special year for Bekaert Australia, which has been operating for 100 years in Newcastle producing a range of specialised wire rope products.
"Congratulations to Stephen Hennessy and the whole team," she said. "Over the past century, the company has faced global economic challenges including the Depression, a world war, and threats from international competition. And here you are."
2023 AWARD WINNERS
Manufacturer of the Year – 50 Employees or More Award
Hi-Vis Group
Manufacturer of the Year – Less than 50 Employees Award
Senquip
Apprentice of the Year – Manufacturing
Adam Potter – Molycop
Rising Star Award (joint winners)
Liam Manning – Saphi Engineering
Curtis Gibson – A.E. Gibson & Sons
Manufacturing Leader Award
Craig de Leon – Elecbrakes
Excellence in Sustainable Operations Award
Hi-Vis Group
Collaboration Partnership Award
Resourceful Living and Hunter New England Health
Excellence in Innovation Award
Saphi Engineering
Excellence in Manufacturing Capability Award
Hi-Vis Group
Excellence in Building Workforce Capability for the Future Award
Hedweld
Excellence in Product design
Senquip
Outstanding Start-up Award
Janus Electric
Excellence in Marketing
Hey Zomi
Excellence in Export and Global Supply Chains Award
Bekaert Australia