Ask any business owner or board-level executive involved in manufacturing about the demands of growing a business, and they would probably readily agree that it's tough.
Apart from juggling various elements to keep the business on a growth trajectory, there are the endless administration tasks.
Regularly producing reports, quotes, estimates, proposals, plans and invoices can be daunting, and may even negatively impact on productivity.
However, the challenge no longer needs to be overwhelming thanks to technology.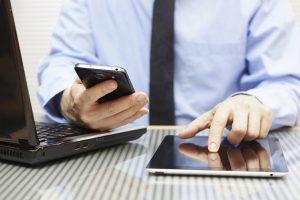 Speech recognition is now more accurate, more powerful, and more usable than ever before, and it can help facilitate the growth of a business.
Adopting a desktop speech recognition solution – like Nuance Dragon Professional Individual for the PC – can improve a business's everyday performance and productivity.
Save time producing documents
Dragon does the typing for you as you speak and, as we talk three times faster than we can type, the productivity implications are considerable.
Dragon quickly and accurately turns your spoken words into text. It lets you put your voice to work to easily dictate and edit documents, proposals, reports and more. With Dragon you spend less time producing documents, and more time on activities that boost the bottom line.
Plus, as Dragon works with all Microsoft Office applications, you can also create spreadsheets and presentations by simply using your voice.
The solution also lets you speak to send emails, and as it's compatible with popular web browsers, you can also deploy Dragon to search the web and use social media with unparalleled speed, ease and comfort.
Dragon rewards the user by helping you gain precious time. Work that may have taken hours – typing a large document or clearing your inbox – can now be achieved faster and without the need to type, and the time saved can be allocated to boosting productivity, improving customer service and increasing revenue.
Work hands-free
There's also less strain on your hands and wrists. Dragon gives you the flexibility to work hands-free and therefore, in a more ergonomic and comfortable way. As you use your voice to get things done on your computer, Dragon helps to reduce the physical stress of typing.
Flexibility to work while on the move
Dragon also addresses the issue of mobility. In the modern business age, you are inevitably on the move, consulting with colleagues, meeting with clients and suppliers, and networking.
The Android or iOS mobile usually becomes the primary interface, but its size creates challenges.
Tiny keyboards and small screen sizes can frustrate. The Dragon Anywhere app, however, lets you dictate and edit documents by using your voice wherever the job takes you.
Correspondence, reports and documents can be created while out in the field, and when back in the office, you can simply pick up where you left off because Dragon Anywhere synchronises seamlessly with the desktop version.
As the pace of business continues to accelerate, technology such as Dragon can give you both the capability and agility to effectively speed through documentation and focus on what matters most – growing your business.