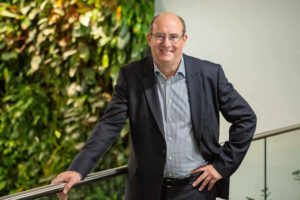 Global engineering and infrastructure advisory company Aurecon has announced the appointment of Managing Director Australia and New Zealand William Cox as its new Global Chief Executive Officer to lead the organisation's rapid growth and continuing diversification across Digital, Advisory and Asia.
Effective from 1 February 2019, William will be based in Sydney. His appointment marks the end of current Aurecon CEO Giam Swiegers' successful fixed four-year term, which saw the company more than double its profits since 2015.
William said: "This is a terrific opportunity to steer Aurecon during a time of significant growth and change for our industry. Incredible technologies are helping us plan and build infrastructure in a way never seen before, truly changing the way we engineer, design and advise.
"My focus areas for the immediate future are to consolidate and continue the growth trajectory in Digital, Advisory, and in Asia where we see immense potential in transport infrastructure, the built environment and fast-growing data centre sector."
As Aurecon Managing Director – Australia and New Zealand, William has a proven track record in building a financially successful, high performance culture with strong client engagement. William is a civil engineer with over 30 years' experience in transport, aviation and infrastructure across Australia and the UK.
William is also Aurecon's Pay Equity Ambassador for the Workplace Gender Equality Agency (WGEA) and Aurecon's representative for the Consult Australia Male Champions of Change.
Under William's leadership, Aurecon implemented female representation targets in Australia. In 2016, there was 26 per cent female representation and a target of 30 per cent was set for 2020. That target was reached in early 2018 and now the aim is 40 per cent by 2020. As a member of Aurecon's Executive Committee, William has contributed to the company's strategic direction, reporting directly to Giam Swiegers.