Australian global manufacturer Sevaan Group was handpicked by an innovative company to help create an armoured wetsuit for protecting commercial divers, Scuba divers, free divers and those into serious spear fishing.
Known as ironskinn, the armoured wetsuit is made of extremely tough aluminium platelets held together by an elastic in-form setting.
Sevaan Group was chosen for various reasons ahead of sizeable international competition, with one reason being its ability to interpret the requirements and set up CAD and manufacturing sequences to make the concept a physical reality.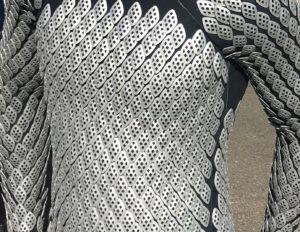 As ironskinn Managing Director Mr John Sundnes explains, Sevaan Group was very inquisitive about what was required and were excited about making a significant part of that product.
"We are making the entire suit in NSW, so Sevaan's Sydney base was a good start and ultimately as a company they showed patience as this was something that was never made before," said Mr Sundnes.
"A lot of finetuning was required and they were up for it; unlike other companies we approached whose attitude was 'when you have a need for 100-offs then call us'.
"It took probably 4-5 months because we had some tooling we needed made and Sevaan Group had good contacts to make that tooling a reality.
"The platelets have a particular shape and particular curvature; thin metal can behave in unexpected ways so that part may come out a little differently compared to its CAD so we needed expertise to handle that."
The ironskinn protective dive suit is designed to protect divers from an unexpected shark bite, as well as to protect from other marine hazards such as oysters, mussels, barnacles and rotten metal from boats when working on them underwater, therefore offering a wide range of applications of material.
Currently, the suit is on a pilot program with some professional divers before going for commercial sale.
Sevaan Group Managing Director, Mr Jim Tzakos, says the association was formed when Mr Sundnes and Joe Christie came to Sevaan with the initial design and prototype for wet suit armour from America.
Mr Sundnes is from America and Mr Christie is a local from NSW, and they decided to set up the business in NSW.
"They brought the concept to us which we analysed and provided initial costings for the prototype manufacture," said Mr Tzakos.
"We then reviewed the design, and worked closely with our international supply chain to make this concept a reality.
"As Mr Sundnes already had basic working prototype and samples, it was our challenge to come up with a new design at a particular price point.
"But a key designed principle was that the platelets are made so the suit doesn't get in the way of kinetic movement of humans in the elbows, knees, hips etc.
Very light and very strong, the ironskinn suit is designed mainly for commercial divers and spear fishing; so it is expected they could get hit by objects at any time and the suit is designed to improve the chances of survival.
The platelets are rated as being harder than shark teeth. If someone is working in the water and a regular sized shark comes at them and bites them, it is expected most likely that bite would be defended; therefore the individual could sustain a scratch rather than a lost limb.