Overview
Built-Rite Tool & Die is a mould-making and design firm in Massachusetts with expertise in precision mould manufacturing. They specialise in the production of moulds for plastic injection moulding. These moulds have complex designs, requiring extensive planning and precise execution.
The challenge
Small to mid-sized businesses like Built-Rite face increasing pressure from international and domestic competitors.
Overseas manufacturers can offer lower prices and domestic prototyping shops can offer quick turnaround times for small quantities of parts. 3D-printing gives Built-Rite an opportunity to realise shorter lead times and gain an edge against the domestic prototyping shops. This includes the ability to iterate quickly to win bids and meet strict deadlines.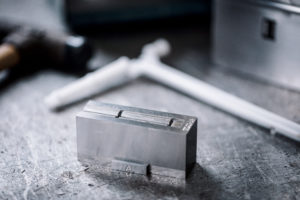 The Studio System introduces the ability to make quick-turn mould assembly components with a process that is far less labour intensive than other equipment in their machine shop and more cost competitive than a third-party prototyping firm.
The Studio printer prints with closed-cell infill to minimise material without impacting wear resistance required for tooling—which is a primary application for the system.
www.objective3d.com.au/built-rite/