New Enerpac Venturi valves can improve the reaction speed of single-acting, spring and load-return cylinders by up to three times, enhancing workplace efficiency and saving time when using these ubiquitous hydraulic tools.
Venturi valves – available in both manual and electric models – create a vacuum-like effect in a pump system, drawing the oil from the cylinder back to the pump's reservoir at a much faster rate.
 Recommended for high tonnage cylinders
 Venturi valves are an excellent choice for improving the efficiency of high tonnage cylinders used throughout Australia, New Zealand and Papua New Guinea. They are also highly compatible with Enerpac's new long-stroke telescopic cylinders used in confined spaces for efficiency and safety.
The retraction speed of load return cylinders can create delay in completing tasks when their operation is slower than desired. This is because, once the load is removed from a load return cylinder, the plunger will not fully retract without additional equipment to force the plunger back into the base of the cylinder.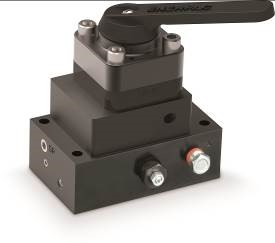 The Venturi valves address this issue and provide a solution for typical users in industries such as mining and energy, construction and infrastructure, manufacturing and materials handling, as well as electrical, heavy transport, manufacturing machinery and motor and turbine maintenance and heavy lifting across a broad range of industries.
 Retrofit Kits
 Retrofit kits are available to upgrade existing Enerpac pumps, which are one of the most widely used brands in Australasia. For field installation on existing pumps, Enerpac offers retrofit kits for pumps with the valve models below:
Pumps with a VM33 manual valve – VUV6MSR Venturi Valve retrofit kit
Pumps with a VE33 solenoid operated valve – VUV5 Venturi Valve retrofit kit
For users who want to take advantage of Venturi Technology, but whose pump isn't capable of being upgraded with a retrofit kit, they can replace their entire valve with a new VM33VAC or VE33VAC.