Global advanced industrial tools and services leader Enerpac says the NZ market is falling victim to cheap, lookalike hydraulic cylinders that are causing significant headaches when they fail in service.
Enerpac New Zealand Hydraulic Specialist, Mr Neville Stuart, says that unlike genuine Enerpac branded gear, lookalike cylinders have not been engineered for rugged conditions and optimum durability and are not backed by Enerpac's nationwide service and warranty commitments.
"Everyone is conscious of working within budget limitations, so when a $2,500 cylinder is available for under $500, it looks like a good deal. But what costs are incurred when that cylinder breaks down prematurely?" asks Mr Stuart.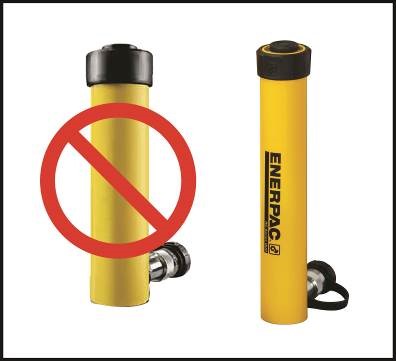 "It can be ten times that amount in terms of lost time, and hundreds of times that amount in terms of safety liability if they fail."
"Not only does production grind to a halt, but you now have to seek a replacement part, because there is no warranty or service with lookalike brands," he says.
Enerpac equipment is used in major projects where safety, precision and uptime are critical, in industries such as building, construction, civil and mechanical engineering, electrical utilities, manufacturing, mining and exploration, metal processing, oil and gas and transport maintenance.
"At the end of the day it's a case of 'cheap comes out expensive' because when you add up all the bills, a lookalike cylinder ends up causing far more costs, downtime, delays and other problems."
Mr Stuart has been raising awareness of New Zealand's lookalike cylinder problem for years but says that the lookalike brands are persistent because they know they can make a quick dollar, then disappear before things go wrong.
"The lookalike cylinders are usually painted in an almost identical yellow, and catalogues can even use similar part coding systems, but at the end of the day, if it isn't genuine Enerpac gear, it can't be serviced or covered under warranty by us, and companies are often left out of pocket due to dodgy cylinders," he said.
All Enerpac products undergo rigorous testing to ensure total Standards compliance and top levels of safety when working on projects where there is no margin for error.
Steps to protect against lookalikes
Ways in which buyers of industrial products and services can protect themselves include:
Nominate the use of only named, quality equipment when they specify and order – dealing with OEM products and authorised distributors with full service backing and the guarantees and traceability that companies such as Enerpac provide.
Build a relationship with a reliable supplier who is prepared to supply the names of established customers in similar industries to the one being quoted. Experience and input from customers – a true knowledge partnership – are fundamental to the design, development, production, supply and service of standard and custom-made hydraulic solutions for safe, precise control of movement and positioning of heavy loads, for example
If in any doubt, check with major distributors and OEMs such as Enerpac to ensure that the products being quoted are the products that they are represented to be.
Thoroughly familiarise staff with correct safety procedures through on-site training courses run by reputable suppliers.