Leveraging HP's Multi Jet Fusion technology, GoProto will be able to meet industries needs for precise and functional prototyping or end-use production at its new facility in Melbourne. 
GoProto, Inc., a leader in advanced 3D prototyping and short run manufacturing, today announced expansion into the Asia Pacific region, with the launch of a new 3D printing and additive manufacturing facility in Melbourne, Australia.
The facility will house the HP Jet Fusion 4210 printer, which is 10-times faster than existing rapid prototyping and 3D printing systems.
Jesse Lea, President, of US operations says, "current technologies like SLS or SLA lack the combined precision, speed and function that's demanded to push printed parts into mainstream manufacturing.  HP's Multi Jet Fusion technology will accomplish high-end, functional prototyping and final part production to industries in search of short run manufacturing needs."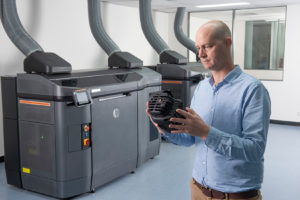 Added Robert Mesaros, Vice President & Head of 3D Printing for Asia Pacific & Japan, HP Inc., "Our ambition is to reinvent the way the world designs and manufactures. This expansion is testament to how HP is working with partners like GoProto to accelerate this transformation, enabling them to shorten and localise the design and manufacturing cycle for their customers."
General Manager, Leon Gairns, will run GoProto's (ANZ) extensive portfolio of prototyping and manufacturing services, including CNC machining, cast urethane, sheet metal and injection moulding.  For more information visit www.goproto.com.au