Myriota is rolling out its next generation technology that will continue to grow direct-to-orbit communications for hundreds of millions of Internet of Things (IoT) devices thanks to today's launch on SpaceQuest's BRIO satellite.
Launched as part of Spaceflight's SSO-A SmallSat Express mission, the satellite will be delivered to orbit on SpaceX's Falcon 9 rocket; adding to Myriota's growing constellation by testing and demonstrating its IoT network.
The launch is an important step towards the creation of the world's first real-time, 24/7 direct-to-orbit IoT platform; giving Myriota the capability to collect data from many millions of small IoT devices globally – such as sensors and asset trackers – and contribute to the business rapidly scaling from trial to commercial applications. It also coincides with Myriota's recent milestone of achieving 250,000 data messages received from a wide range of customers since May last year.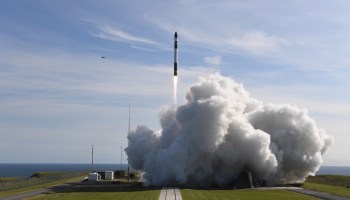 Co-founder and Chief Technology Officer of Myriota, Dr. David Haley, said the new satellite payload would complement Myriota's existing satellite constellation while introducing a forward link to terminals, increasing device battery life and improving communication efficiency.
"We are committed to delivering superior satellite connectivity and today's launch is a valuable step in developing our direct-to-orbit communications capability," Haley said. "New and existing devices using Myriota technology will benefit, and we're excited to see the impact across a variety of different sectors."
The satellite will be launched into a sun-synchronous orbit, providing regular and recurring communication opportunities multiple times per day, and place Myriota's technology into the hands of industry heavyweights and developers to enable ultra low cost, and scalable IoT from anywhere on the planet.
One such industry that's set to be positively impacted thanks to the launch is agriculture, with Goanna Ag's Chief Operations Officer, Tom Dowling, saying that farmers are becoming more reliant on data driven insights due to challenging drought conditions.
"Farmers are more reliant than ever on data driven insights to support their day to day water management, and there's a real need for precise irrigation scheduling and optimised water use efficiency," Dowling said.
"The issue has been connectivity in rural Australia, which has impeded our ability to provide a reliable and cost effective network to support field sensors, and while we've been making our own significant investment in solving this challenge, our collaboration with Myriota over the past two years has shown us that enabling ubiquitous connectivity for a range of important on farm monitoring is integral to our clients."
The water management company is set to launch a number of exciting projects with Myriota, with Dowling saying that he was excited about the impact that a growing constellation would have on these initiatives.
"Connectivity, cost and coverage remain problematic for us, we need to solve this problem – at scale – before we're able to access the value of data analytics," he said. "We are really looking forward to finalising sensor integration and getting sensors out in the field connected to the Myriota satellite service."