German energy storage company Sonnen has begun production of home battery storage systems at its new factory in Adelaide.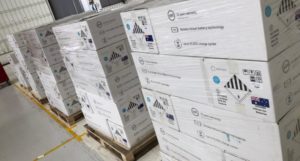 An A$100 million South Australian government scheme to subsidise solar energy in homes was pivotal to securing investment from Sonnen, which moved its headquarters from Sydney to Adelaide this year.
The Home Battery Scheme gives 40,000 South Australian households access to up to $6000 of subsidies and low-interest loans to pay for the installation of home batteries and solar.
South Australia Premier Steven Marshall said the battery manufacturing facility will see the revival of the former automobile factory as a national centre for solar energy technology.
"Having Sonnen locate its manufacturing centre in Adelaide for the production of home batteries for Australia, Asia and the South Pacific is a significant step in the revitalisation of South Australia's industrial base," said Premier Marshall.
"The assembly and manufacture of 50,000 energy storage systems in Adelaide over the next five years will create around 430 manufacturing and installation jobs in the state and locates South Australia at the centre of this developing industry."
Sonnen founder and CEO Christoph Ostermann said the company would manufacture more than 10, 000 batteries a year to meet the demand from Australian households for home battery storage systems.
"We are excited at the prospect of manufacturing in South Australia for the Australian and export markets and to participating in making Australia the number one market globally for energy storage system," said Ostermann.
"Sonnen will bring great benefits to South Australia through jobs at its Australian head office and factory in Elizabeth, lower energy prices for households that take up the battery program, and increase retail energy competition."